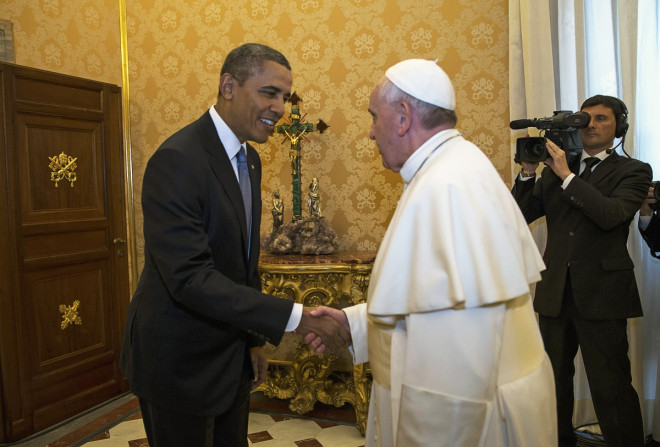 US President Barack Obama held an historic meeting with Pope Francis at the Vatican, as part of a European tour dominated by the crisis in Ukraine.
Obama's motorcade arrived at Vatican City, in the heart of Rome in the morning. The President was welcomed by the Prefect of the Papal Household Georg Gänswein, flanked by the Vatican's Swiss guards.
The President then entered the Apostolic Palace where he shook hands with Francis.
"It's wonderful to be here," Obama said. "Thank you so much for receiving me."
The pair then sat down with their translators at a wooden table for a private meeting.
It was the second time Obama visited the Holy See, as he met Pope Emeritus Benedict XVI in 2009.
Ahead of the meeting Obama praised Francis's humble leadership of the Catholic Church in an interview with Italian newspaper Corriere della Sera
"The Holy Father has inspired people from the entire world, including me, for his commitment to social justice and his message of love and compassion, particularity for people who are the poorest and most vulnerable among us," Obama said.
"Given his great moral authority, when the pope speaks it carries enormous weight," Obama said. "He can cause people around to the world to stop and perhaps rethink old attitudes and begin treating one another with more decency and compassion."
Obama was then due to meet with Italian president Giorgio Napolitano and Prime Minister Matteo Renzi. A private visit to the Colosseum in Rome was also on the presidential schedule.