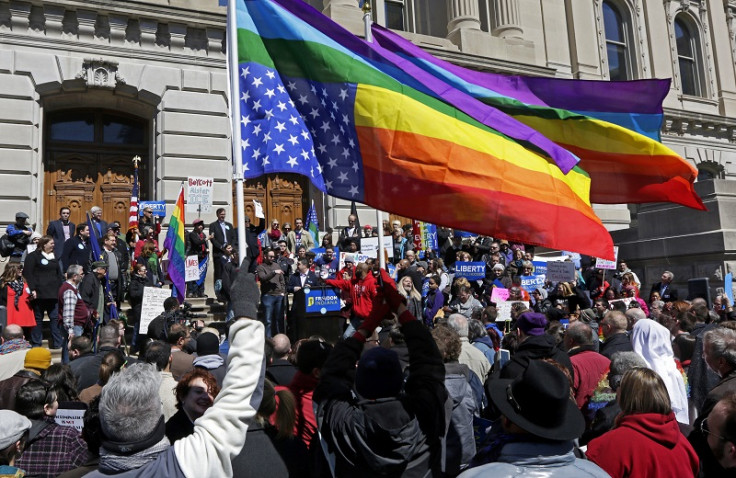 Indiana's controversial religious freedom law is loosing public support, as more Americans oppose similar laws. According to the Washington Post, support for religious freedom laws have steadily lost the support of the American public.
In September, a Pew Research Center poll revealed Americans were nearly split on whether business should be allowed to deny service to same-sex weddings, with 47% saying business should be allowed. A similar poll conducted by the AP-GfK in January found that number spiked to 57%.
However, a new CNN/Opinion Research poll revealed that number had dipped to 41%. Another 57% of respondents said businesses should be required to provide services no matter their religious objections.
Another poll conducted by Suffolk University and USA Today, found that 57.8% of respondents would oppose religious freedom laws, while 30.8% would support them. An additional 11.4% remained undecided, the poll stated.
The 24 April CNN poll also revealed the difference in opinions between Democrat and Republican respondents. Only 27% of Democrats said businesses should be allowed to refuse services, compared to 67% of Republicans. Conversely, 70% of Democrats believe businesses should be required to provide services to same-sex couples, compared to 32% of Republicans.
Religious freedom laws have been a topic of national debate after Indiana passed the Religious Freedom Restoration Act earlier this year.
Many opponents argued that the law allowed businesses to discriminate against the LGBT community. In a move towards appeasing opponents, Indiana Governor Mike Pence approved amendments meant to prevent discrimination on 2 April.
A similar bill was signed into law in Arkansas by Governor Asa Hutchinson on 2 April. The bill signed by Hutchinson was also forced to undergo revisions to quell criticism.