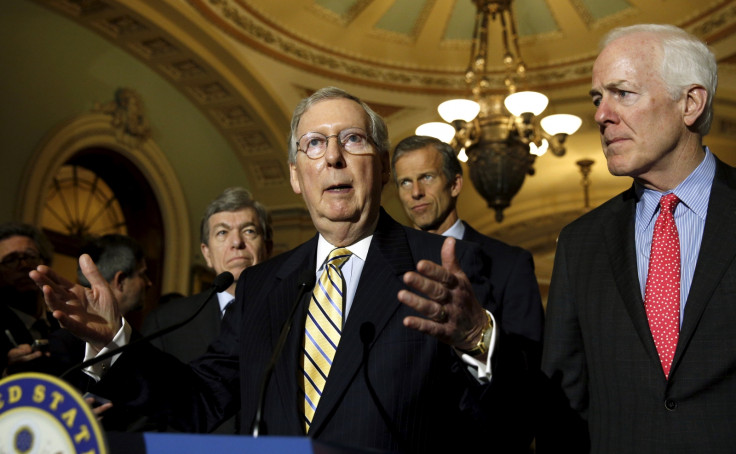 President Barack Obama's "fast-track" bill moved one step closer to becoming law on 21 May when it narrowly passed the Senate with a vote of 62-38. If it passes the House of Representatives, the president would gain the power to negotiate the Trans-Pacific Partnership trade deal without Congress adding amendments to the deal.
Only 13 of 44 Democratic senators passed the legislation after Republican Senate Majority Leader Mitch McConnell agreed to set a vote on a bill to renew the Export-Import Bank's charter in June, Reuters reported.
Democratic Ohio Senator Sherrod Brown criticised the Senate for not debating the bill further ahead of a vote, ABC News reported. "We're going to shut down debate on the first full day of consideration?" Brown said. "We're not being unreasonable. We're playing this straight. We're simply asking for the Senate to debate this legislation."
Another 49 of 54 Republicans signed on to the fast-track bill.
According to Reuters, 60 votes were needed for the Senate's second procedural vote. Senators will now discuss amendments to the bill, which could require another 60 person procedural vote. If all runs smoothly, the bill could reach a final vote by the end of the week.
There are several contentious amendments that will be looked at. Reuters reported that senators could attempt to add controversial sanctions on trading partners that deliberately weaken their currencies.
However, the White House has said it would veto the bill if senators add those sanctions, preferring to convince partners not to manipulate currencies using diplomacy.
The Trans-Pacific Partnership (TPP) trade deal would create a free trade zone between the US and 11 Pacific-rim nations. President Obama has surprisingly found allies in Congressional Republicans as he fights his own party for the passage of the fast-track bill and the TPP.
The bill will face a tough road ahead in the House of Representatives, where Republicans oppose granting the president more power and Democrats fear about impacts on the US workforce.