US Slams Russia's Ukraine Incursion as Medvedev Warns Better Relations Depend on Sanctions Lift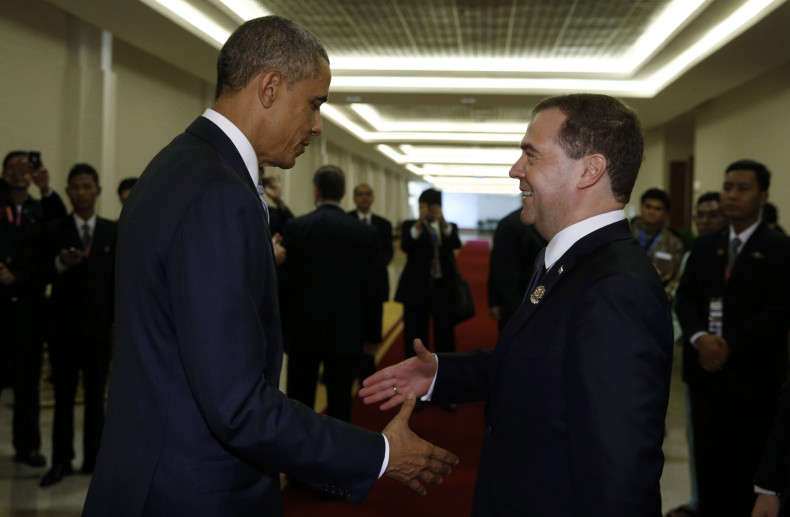 The US has condemned Russia's disregard for a ceasefire in Ukraine after Nato reports show that Russian troops and military vehicles had been deployed in the country.
The US envoy to the UN, Samantha Power, accused Moscow of seeking war in Ukraine while pretending to be for peace in the region.
"The pattern is clear," Power told a UN Security Council meeting called by the US. "Where Russia has made commitments it has failed to meet them."
"Russia has negotiated a peace plan and then systematically undermined it at every step. It talks of peace but it keeps fuelling war."
The Russian Defence Ministry has strongly denied Nato reports that Russian military convoys have crossed into Ukraine.
Defence ministry official, General-Major Igor Konashenkov, said that "there was and is no evidence" behind Nato's statements.
Russia's deputy Ambassador to the UN, Alexander Pankin, rejected the reports as western propaganda, saying that the allegations "do not reflect the situation on the ground" and accusing members of the security council of a "foray into propaganda".
Fighting between Kiev's forces and the Russian-backed separatists has killed more than 4,000 people since April.
Meanwhile, Russian Prime Minister Dmitry Medvedev has said that sanctions against Moscow must be lifted for relations to improve with the West following his meeting with US President Barack Obama in Asia.
He said that it was necessary "to abandon sanctions, move relations to a normal, working order, return to normal, calm, productive talks", Interfax news agency quoted him as saying at the summit of the Association of Southeast Asian Nations in Myanmar (formerly known as Burma).
He also said that he expected the Russian rouble, which has decreased significantly since the Ukraine crisis, to firm when the Russian economy found "its point of balance".