In yet another show of strength, South Korea and the US kicked off a large-scale joint naval exercise on Monday (10 October) around the Korean Peninsula. The USS Ronald Reagan (CVN-76), a Nimitz-class nuclear-powered supercarrier will be participating in the six-day joint drills.
Called Invincible Spirit, the exercise "is aimed at showing the allied forces' strong commitment to counter relentless provocations by the North and improve their maritime interoperability," a spokesman for the South Korean Navy was quoted as saying by Yonhap news agency.
The two participating countries are reportedly planning to mobilise dozens of naval warships and submarines during the exercise, including Ticonderoga-class Aegis missile cruisers, P-3 and P-8 maritime patrol aircraft, Apache helicopters and FA-18C Hornet fighter jets, a statement from the South Korean Navy said.
As part of the drill, the navies will carry out the maritime counter special operations force (MCSOF) "to strike virtual North Korean special commandos attempting to infiltrate over the sea demarcation lines" in the East and West seas.
Further, the aircraft carrier strike group will conduct anti-submarine, anti-aircraft and precision-guided striking operations in waters off the southwestern coast of the Korean Peninsula, Yonhap reported.
This exercise comes amid growing threats from North Korea as Pyongyang has conducted a series of tests of its nuclear weapons and missiles. It was preceded by another joint naval exercise by the two allies in the East Sea (or Sea of Japan as referred to as by Japan). The US guided missile destroyer USS Spruance, equipped with the Aegis missile defence system, took part in the drill with Seoul's ships, submarines and planes in the waters east of the Korean Peninsula.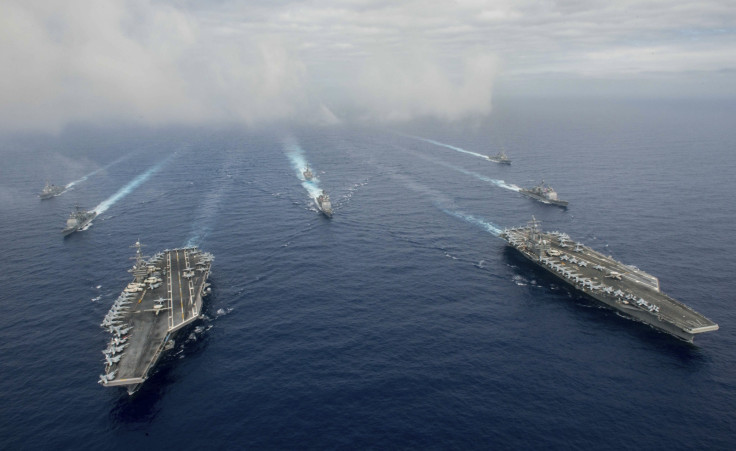 Apart from pushing for tougher sanctions against the Kim Jong-un regime, the US and South Korea have tried to use military drills to deter the North from pursuing its banned nuclear programme. However, Kim has vowed to intensify his efforts towards building a powerful nuclear arsenal.