North Korea could be preparing for another nuclear test, suggest satellite images
US-based monitoring group says the images show increased activity at Punggye-ri nuclear test site.
New satellite images suggest increased activity at North Korea's nuclear test site, raising speculation that the country could be preparing for another major nuclear test, a US-based monitoring group has said.
According to 38 North, which first published the photos, there was activity at all three of the tunnel complexes at the Punggye-ri nuclear test site. It said satellite pictures taken on 1 October reveal the activity involves large vehicles and people around the tunnel entrances.
The group, run by Johns Hopkins University's School of Advanced International Studies, said Pyongyang's activity could be for several reasons, including collecting data on the 9 September nuclear test, the latest and the biggest test claimed by the North.
At the same time, preparation for a possible new test cannot be ruled out, as increase in activities at all the three tunnels at once were spotted, which is unusual, analysts from the group said on Friday (7 October).
It is reported that occasional activities do take place but at individual tunnels. It is believed that Kim Jong-un could launch a new test any time as experts speculate it could be on two days (around 9<sup>th or 10<sup>th October) to mark the 10<sup>th anniversary of Pyongyang's first nuclear test and the 71<sup>st anniversary of the founding of the North's Workers' Party.
The country conducted its first nuclear test in 2006. It is reported to have flouted United Nations sanctions since then and has rejected several calls by the international community to stop its nuclear programme. The North has always argued that it needed to develop weapons and missiles for self-defence.
It has emerged that North Korea follows a pattern of conducting a test around some key events or anniversaries. It held its fifth nuclear test to coincide with the 68<sup>th anniversary of nation's founding.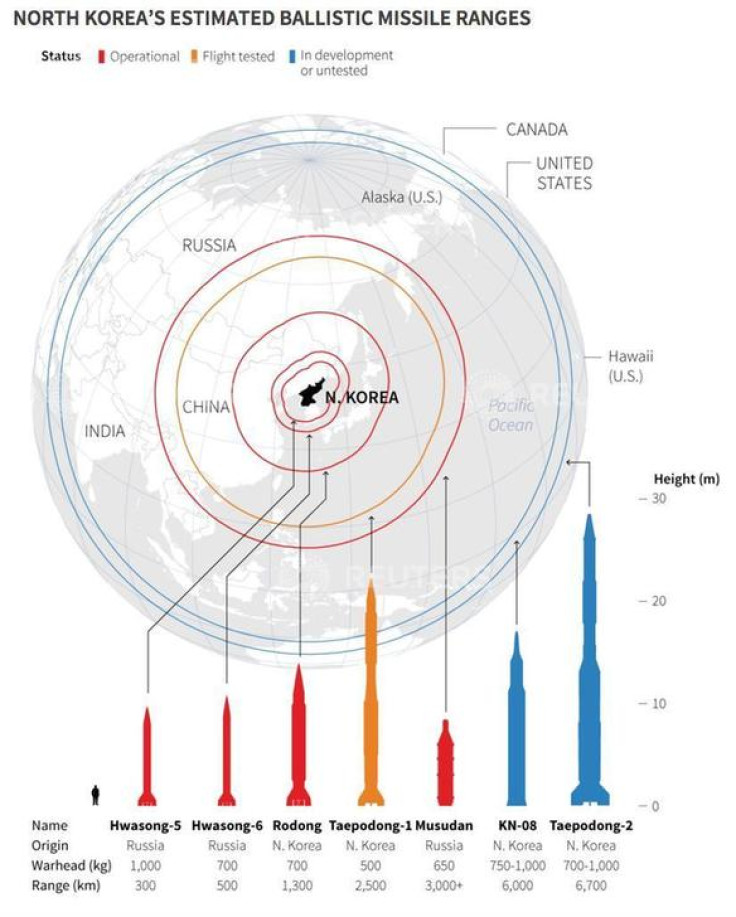 A look at North Korea's nuclear facilities and capabilities
Reuters
A CNN report speculated a provocation around the US presidential elections. It said Pyongyang conducted a missile test followed by a nuclear test soon after Barack Obama was elected. The report cited a study by the Center for Strategic and International Studies, which said North Korean leaders have tried to raise tensions around election time in the US in the past few decades.
South Korea has said it has found no particular indication that Pyongyang may be timing a new test to mark the 10 October anniversary, according to a Reuters report which cited the country's Unification Ministry spokesman Jeong Joon-hee.
However, Seoul-based Yonhap news agency cited an unidentified government official as saying that there were activities at North Korea's rocket launch station near the west coast, raising speculation that Kim could be preparing for a long-range missile launch.
Any new test – missile or nuclear – could reportedly invite tougher sanctions against Kim and his regime, which South Korea, the US and Japan along with the UN Security Council are already discussing.
© Copyright IBTimes 2023. All rights reserved.