Two mobile operators in the US and South Korea have held the world's first ever international 3D-hologram call in order to demonstrate the speed and bandwidth capabilities of 5G.
In the demonstration, a Korea Telecom (KT) employee in South Korea held a live call with a Verizon employee in the US, with both parties appearing as a 3D-hologram image on a tablet PC. The two operators are currently trialling next generation ultra-fast 5G mobile networks deployed over the 28 GHz spectrum.
"The collaboration under the current partnership of Verizon and KT has been very productive as shown by the demos we have seen today. We will continue to work together to lead the global 5G business by developing innovative technologies and services," Verizon's chief executive Lowell McAdam told the Korea Herald.
KT is encouraging more mobile operators and infrastructure providers to join forces, because it says global cooperation is essential to ensure that all 5G networks are capable of the same low latency, high data rates and massive traffic volumes to make graphic-intensive 3D-hologram calls possible.
"If the 5G network is commercialised, 3-D hologram video calls will be available as one of the representative 5G-based services. Through a complete hologram video call, users will be able to meet a person in a remote area in a real size in real time," said KT's chief executive Hwang Chang-gyu.
"Neither one company nor one country alone can commercialise 5G by itself, let alone by 2019. Therefore, collaboration, like what we have with Verizon, is all the more important in order to establish the global 5G mobile ecosystem."
Race to build 5G networks before standards are set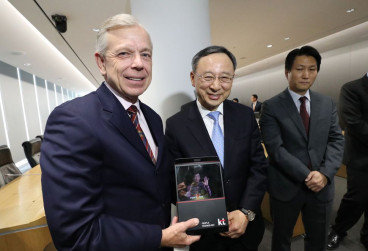 KT announced in December that it intends to complete the construction of a pre-standard 5G trial network by September 2017, because it needs to ensure that it has enough mobile internet bandwidth to support the millions on people who will descend on Pyeongchang in 2018 for the Winter Olympics.
Verizon on the other hand, claims that it has already built a 5G network and that it is piloting 5G pre-commercial services in 11 cities (Washington DC, Miami, Seattle, Sacramento, Houston, Denver, Dallas, Brockton [MA], Bernardsville [NJ], Atlanta and Ann Arbor) starting from Spring 2017.
It is important to step back and point out that 5G doesn't yet exist, and that there are a myriad of millimetre wave technical challenges that need to be solved first. The specifications of the technology are being set out by global mobile standards body 3GPP, and the final 5G standard isn't expected to be released by the International Telecommunication Union (ITU) until 2020.
That said, the global mobile operator body GSMA is determined for mobile operators to deploy 5G wireless networks by 2019, and to that end, 22 operators, smartphone manufacturers and infrastructure providers signed an agreement to back the 5G New Radio specifications being developed in February at Mobile World Congress 2017.
Verizon is not supporting the 3GPP's proposed 5G NR specifications. Instead, it is working with a large number of partners including Ericsson, Nokia, Samsung and Qualcomm in the Verizon 5G Technology Forum (5G TF) and using technical specifications developed from this to extend Verizon's 28/39 GHz frequency bands.
Meanwhile, most other mobile network operators in the world are focused on trying to get as much as they can out of their existing 4G networks, such as upgrading bandwidth and lowering latency using things like Nokia's 4.5G and 4.9G technologies.