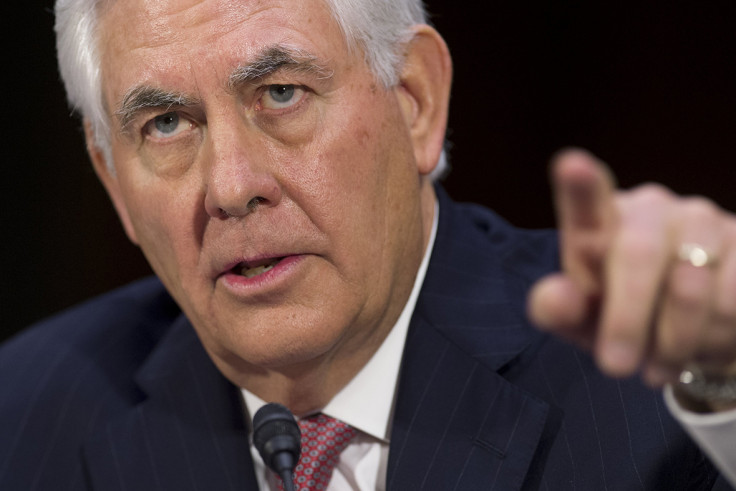 Top civil servants in the US State Department have resigned before they could start work with Secretary of State, and former ExxonMobil CEO, Rex Tillerson and President Donald Trump.
The State Department's undersecretary for management Patrick Kennedy, who has worked for the department for nine years and helped with the Obama-Trump transition, resigned along with three other top officials, according to the Washington Post, on Wednesday 25 January.
It was Tillerson's first visit to the department after he was voted into the position by a Senate panel on Monday 23 January.
The Assistant Secretary of State for Administration, Assistant Secretary of State for Consular Affairs, and the director of the Office of Foreign Missions, have all left the State Department The Post confirmed.
The department also lost its Assistant Secretary of State for Diplomatic Security to retirement the day of Trump's inauguration and director of the Bureau of Overseas Building Operations.
Their jobs are to manage the State Department and take care of the thousands of its employees stationed at diplomatic postings all over the world.
"It's the single biggest simultaneous departure of institutional memory that anyone can remember," David Wade, chief of staff to Secretary of State John Kerry told The Post. "These retirements are a big loss. They leave a void. These are very difficult people to replace."
The resignations are part of a large turnover of staff throughout the US civil service at different departments like the National Security Council (NSC). "Career people are looking get out and go back to their agencies and pressure is being put on them to get them to stay," a NSC official told The Guardian during the transition in late December 2016. "There is concern there will be a half-empty NSC by the time the new administration arrives, which no one wants," they said.
At the State Department several senior foreign service officers in regional offices have also resigned since the election, The Post reports.
Tillerson arrives at the State Department after a nearly 40 year career in the the oil industry and with no experience running a government department. The resignations and retirements leave few senior staff to lead him through the bureaucracy.
"Department expertise in security, management, administrative and consular positions in particular," Wade said, "are very difficult to replicate and particularly difficult to find in the private sector."