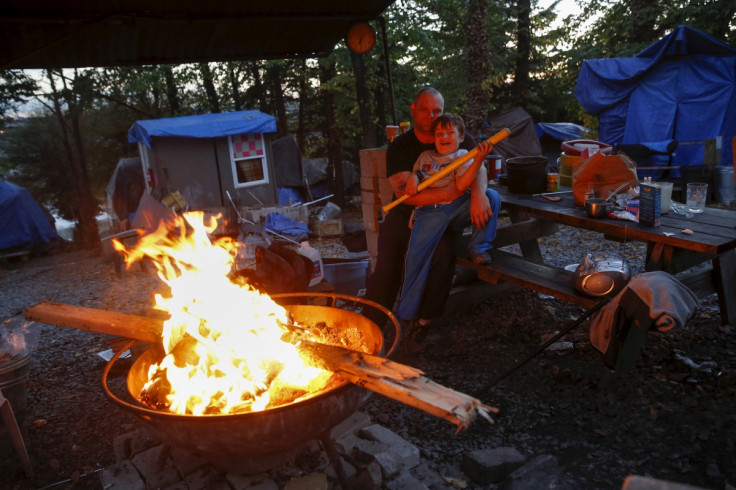 Two people have been shot dead and three wounded in an attack on a homeless camp in Seattle, Washington. Police were still searching for two gunmen who opened fire on people in the encampment in a wooded area known to locals as "The Jungle."
Police responding to reports of gunfire searched the area and found the bloody victims. A woman was found dead at the scene, and a severely injured man succumbed to wounds after being rushed to a nearby hospital. A man and two other women were wounded, all of them critically. Their identities were not released. The victims, ages 25 to 45, had gunshot wounds to the chest, abdomen and back, the Seattle Times reported.
"Police are actively searching the woods for the suspects and piecing together information about the incident," said a Seattle Police Department spokesman. A helicopter and police dogs were used in the hunt.
Seattle Assistant Police Chief Robert Merner told reporters: "We have reason to believe it was very targeted as far as what happened here," and that the shooting wasn't a random attack.
"We have no reason to believe anyone else is in danger at this point," said Police Chief Kathleen O'Toole. She said that officers were sent to other homeless encampments to check on and reassure people.
The shooting occurred just as Seattle Mayor Ed Murray was delivering a special televised address on homelessness near the encampment.
"We are involved in a homelessness crisis the like that we have not seen since the Great Depression," Murray said. "There is no simple answer."
He said The Jungle has been "unmanageable and out of control for almost two decades" and that the city would launch an assessment of the encampment in the next two days.
Murray recently declared a state of emergency over the city's growing homeless population. The city recently announced that empty lots would be opened for people living in their vehicles.
The city of 650,000 people houses some 2,000 people a night in shelters, up 20% over last year. There are many more who sleep on the streets and in places like The Jungle.