US urges Ethiopia to use its state of emergency to address protesters' grievances
Ethiopia declares six-month state of emergency following anti-government protests that resulted in hundreds of deaths.
The US has warned Ethiopia that a state of emergency declared earlier this month will be counterproductive if used to quell dissent voices. Ethiopia has been marred by anti-government protests in the Oromia and Amhara regions, with activists and opposition members claiming security forces have killed at least 500 people since protests erupted in November 2015.
The government said the state of emergency, which is believed will last for six months, will be used to coordinate security forces against "anti-peace elements" blamed for violent attacks on people and infrastructure, including foreign-owned companies. Ethiopia also blamed forces in Egypt and Eritrea for the ongoing unrest.
However, the US, which considers Ethiopia a key partner in the Horn of Africa, urged authorities to use the state of emergency to address protesters' grievances.
"Even if these measures are intended to restore order, silencing independent voices and interfering with the rights of Ethiopians is a self-defeating tactic that exacerbates rather than addresses those grievances," US State Department spokesman John Kirby was quoted by AFP as saying.
Kirby's comments follow German Chancellor Angela Merkel remarks on Ethiopia's need to allow protests in the country.
Response 'not disproportionate'
Ethiopia has come under fire for the way it is handling unrest in Oromia and Amhara. On 11 October, Prime Minister Hailemariam Desalegn admitted the death toll could be higher than 500. However, he denied security forces had reacted disproportionately
"The government is not using extreme violence. If it happened, we will investigate the units involved," Hailemariam said during a joint news conference with Merkel in the capital Addis Ababa.
Ethiopia also claimed calm has returned in the country. Activists, however, have claimed on social media that protests are still ongoing.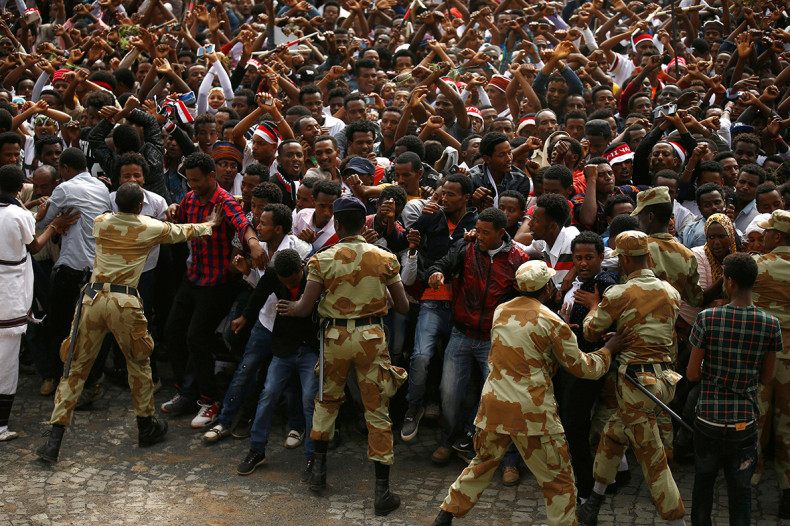 Reasons behind protest
Demonstrators first took to the streets of Oromia in November 2015 to voice their dissent against a government draft plan that aimed to expand the boundaries of the capital.
They argued the so-called "Addis Ababa master plan" would lead to the forced evictions of Oromo farmers and would undermine the survival of the Oromo culture and language.
The Ethiopian government scrapped the master plan, following increasing agitation. Protests are continuing, with people calling for self-rule, the liberation of political prisoners and the end of what they perceive to be a military regime in the region. This includes an end to an alleged crackdown by security forces on "peaceful and unarmed" demonstrators, mainly students and farmers.
Human Rights Watch (HRW) and other rights groups claimed security forces killed at least 100 people in the Amhara region during anti-government protests held in August. The government denied the allegations of violence. Protests erupted in Amhara after thousands took to the streets of Gondar and Bahir Dar to protest over the administration of disputed territories.
Members of the Welkait Tegede community demanded their lands be administered by the Amhara region, instead of the Tigray state.
Protesters, who identify themselves as ethnically Amhara – Ethiopia's second largest group – clashed with police during the demonstrations, labelled as the biggest anti-government unrest Ethiopia has witnessed in recent history.
On Monday, President Teshome told parliament, where no opposition party is represented, that the electoral system needs to be altered so that non-government MPs are elected.