After years of downward trend in violent crime statistics in America the figures are taking a troubling new turn upward, according to the latest report from the FBI. Violent crime rose in the first six months of 2015 over the same period the previous year, with murders increasing by more than 6%. The number of rapes, robberies and aggravated assaults were also up.
FBI Director James Comey has been warning about a troubling spike in homicides in some of America's largest metropolitan areas. The biggest jump in violent crime occurred in cities with populations of between 250,000 and 499,999 people.
Chicago shootings have been in the news repeatedly with multiple deaths and injuries. Police reported that homicides in 2015 jumped to 468 from 416 in 2014, a 12.6% increase, and the most homicides of any city in the nation. There were 2,900 shootings in 2015, up 13% from 2014 and up 29% since 2013.
The stats were released as the Chicago police department struggled to regain the trust of the public in the wake of a graphic video showing white police officer Jason Van Dyke shooting black teenager Laquan McDonald 16 times.
Los Angeles reported a 12.6% jump in the overall number of crimes across 2014 to 2015, which Mayor Eric Garcetti blamed on an increase in gang activity and domestic violence. Violent crime was up a significant 20.2% following a 12-year downward trend. Nearly 60% of the city's 283 homicides — up 8.8% — were gang related.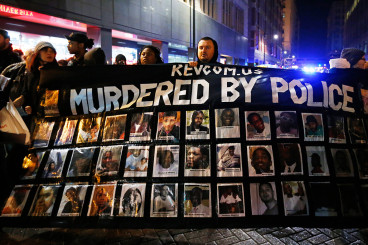 Los Angeles Police Department officials noted that the city is still safer than 50 years ago, with the per-capita crime rate lower than in 1953.
Violent crime increased in all regions of the nation, save for one, the north-east, where it was down 3.2%. The biggest jump was in the West at 5.6%.
A Justice Department spokesman assured that it's "too early to draw any long-term conclusions" and that "overall violent crime rates remain historically low." Property crime in the nation was down 4.2%.