A woman was shot dead while taking a stroll along a San Francisco pier with her father in what appears to have been a random attack.
Kathryn Steinle, 32, was taking photos with her father at the popular tourist spot when she was shot in the back by the man, who did not exchange any words with her.
Ms Steinle did not appear to realise she had been shot. As she fell to the ground she called out to her father saying: "Dad, help me, help me."
Jim Steinle attempted to administer CPR as passersby came to the aid of the father and daughter.
Police Sgt Mike Andraychak said: "The victim said something to her family members to the extent that she didn't feel well. Like she realised something had taken place with respect to her and she fell to the ground."
Steinle was taken to San Francisco General Hospital, where she was pronounced dead, police confirmed.
About a dozen people were on the pedestrian Pier 14 at the time of the killing at about 6.30pm on Wednesday evening. Investigators used mobile phone photos taken by witnesses to hunt the suspect.
An hour after the shooting, officers detained Francisco Sanchez, 45, a resident of Texas, at the corner of The Embarcadero and Townsend Street at 7:15 p.m., after several witnesses identified him as the shooter.
Sanchez was not carrying a gun when taken into custody. Police reported that the gun was thrown into the water after the shooting. A police boat with sonar equipment has recovered the weapon.
Sanchez is on probation from a criminal conviction in Texas. He has been deported five times to Mexico, most recently in 2009, according to federal records. He also has a criminal history involving seven felony convictions. In March, he was released from a San Francisco jail after being arrested on suspicion of selling marijuana. Immigration officials had requested he be kept in detention, but sheriff's deputies freed him without notifying those authorities.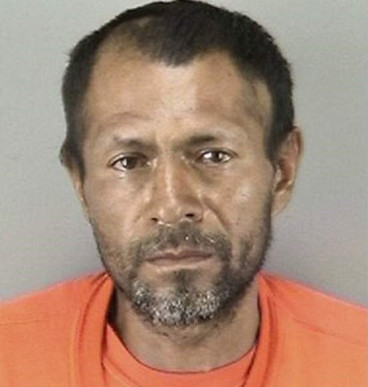 Police said the attack on Ms Steinle was not a robbery and there was no connection between her and the attacker.
The victim's grieving family have spoken of their shocking loss. Her father said she was snatched away in the prime of her life.
"She had so much to live for and died so senselessly," he said. "It's terrible."
Her brother, Brad Steinle, told reporters: "Cherish the people in your life, and who you love, and tell them you love them. Cause I'll never get to tell my sister that I love her again."
Her mother Liz Sullivan described Ms Steinle as a "sweet, beautiful, independent, strong-willed woman" who enjoyed traveling and doing charity work, including hosting a fundraising dinner for patients with multiple sclerosis. "She's my baby girl, and she was over here just the other day. It's just unbelievable. There are no words."
The Steinle family expressed their gratitude to bystanders who helped give CPR at the scene and were able to help investigators identify the suspect.