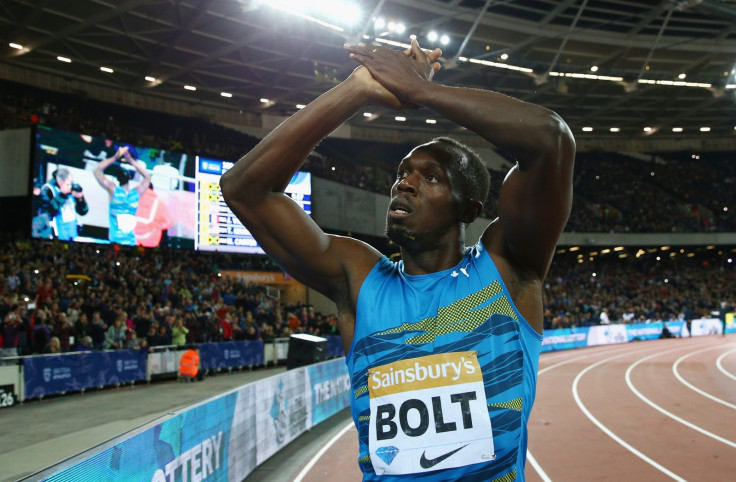 Usain Bolt will head into the 2016 Summer Olympics with the title of 2015 world champion after defeating American Justin Gatlin with a 9.79-second burst in the men's 100-meter final at the IAAF World Championships in Beijing.
This man, all of 6' 5" and 207 pounds, has inspired many young sportsmen with his healthy lifestyle, diet and fitness standards. Here we recall some of his best habits.
Fitness and workout
Stretching: Bolt starts his workout with stretches, and he is very fond of it, according to Details.
Leg raises: This is the first routine in his actual workout.
Side sweeps:The second important workout is the side sweep. "Lie on your right side, left knee bent 90 degrees, crossed over your body and touching the floor. Extend both arms straight in front of your torso. Swing your left arm in a 180-degree arc across your body, reaching for the floor behind you. Allow your torso to twist along with the movement while keeping your hips facing the opposite direction. Repeat. Next set, switch sides," Details says.
Reverse crunches: Lie face-down on the floor, hands behind your head. Lift your torso off the floor, twisting up and to the right. Return to neutral position. Repeat for your left side.
Side plank clams: "Lie on your left side, feet tucked behind you, knees in line with your body. Prop your torso up on your left elbow and raise your hips off the ground in a modified side plank. Place your right hand on your right hip. Open and close your knees in modified calm pose. Repeat."
Bolt also spends a lot of time in the gym because some of the machines can help him in strengthening.
Machine squat: 1 set of 10 reps, and 1 set of 8 reps to build power in his quads and back.
Seated chest press: 1 set of 10 reps, and 1 set of 8 reps to improve total body strength.
Leg extensions: 1 set of 10 reps, and 1 set of 8 reps to develop strength endurance for his quads.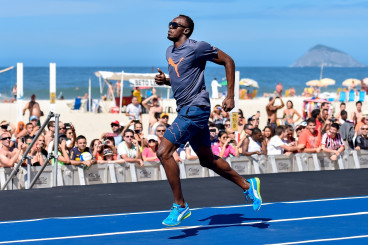 Diet plan
Bolt loves chicken nuggets and wings in the morning before he hits the racing tracks. But yams are believed to be his secret sauce.
Bolt achieves balance with a diet consisting of 60% protein, 30% carbohydrates, and 10% fat. He also takes Vitamin C supplements.
Bolt's daily meals
Breakfast: Ackee and saltfish (a traditional Jamaican dish) with dumplings, cooked banana, yellow yam and potato.
Lunch: Pasta and chicken breast.
Dinner: Rice and peas with pork.
Off the racing track, Bolt loves to spend time dancing and listening to music. He has a keen interest in music. When he plays a reggae DJ, he makes the crowd go gaga. Bolt is also a fan of Premier League football team Manchester United and cricket.