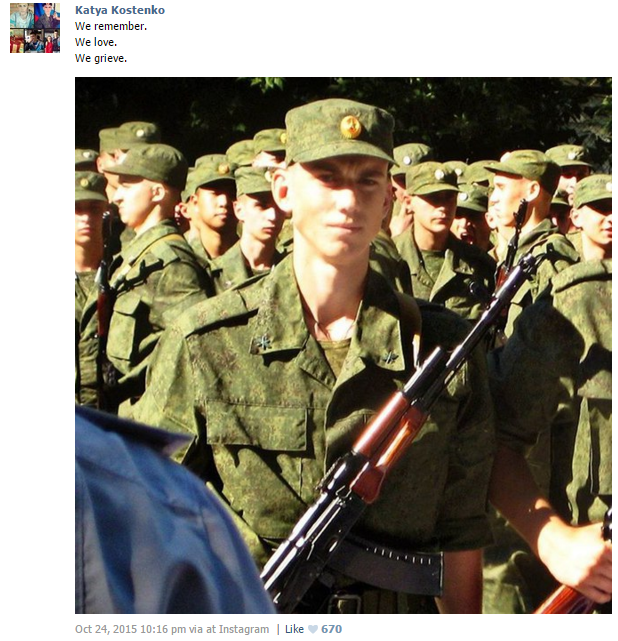 The alleged suicide of a 19-year-old Russian soldier in a Syria airbase has been strongly questioned by his parents and a monitoring group.The Russian defence ministry said Vadim Kostenko, a technical expert at Khmeimim Airbase in Latakia, "committed suicide during rest after duty".
"According to preliminary assessment, including the analysis of the SMS messages in his phone, the reason for the suicide was a break-up with his girlfriend," it said. His identity was not disclosed but Russian investigative bloggers identified the man as young Russian Air Force serviceman Kostenko, from the southern city of Krasnodar.
Ruslan Leviev posted on his LiveJournal page that his group, the Conflict Intelligence Team (CIT) – a group of bloggers who previously worked to find information about Russian deaths in Ukraine – had uncovered messages of mourning on VKontakte for Kostenko.
The 19-year-old was a contract soldier in the 960th Close Air Support Regiment, which has been operating in Syria with a contingent of SU-25 ground attack aircraft. Friends and family posted mourning messages commemorating the serviceman with pictures of him on duty.
"He was killed in Syria, he served there," a female friend wrote on social media in response to friends of Kostenko asking for information about his whereabouts.
Leviev contacted a friend of the Russian soldier to ask about circumstances of his death. The girl said Kostenko's parents were given conflicting information about their son's death:
The unnamed friend said Kostenko's body was found along with nine others.
A relative confirmed to RBK newspaper that Kostenko was sent to Syria on 14 September after signing a contract on 20 June and that the family was informed of his death on 25 October.
The young soldier's parents told Reuters in an exclusive interview that they did not believe their son would have taken his own life.
"I will never believe this version [suicide]," said Svetlana, Kostenko's mother. Svetlana said she had spoken to him as recently as last Saturday, the day he died. "We spoke every day by phone for half an hour. [On Saturday] he was cheerful, happy, and he laughed".
"We were told he had hanged himself because of a girl. He would never have done it. I know my son really well," the father, Alexander Kostenko, said.
A report on the Wall Street Journal from 23 October quote an unnamed Russian defence official as saying that one soldier had died in Syria as a result of "careless handling of weaponry".
If confirmed, Kostenko would be the first Russian soldier killed in Syria.