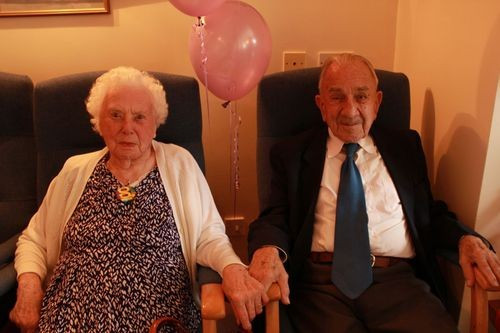 This is the season of love... and that most noble of human emotions doesn't care about age.
An elderly married couple from UK - Lionel and Ellen Buxton - will be celebrating 76 years of their life together. They are, in fact, Britain's oldest married couple.
Now apparently, the Buxtons have taken to the Internet's social networking site, Twitter, to share the secrets of their long-lived relationship and will also look to solve the relationship dilemmas through tweets.
You can follow the couple, who have invited users to tweet their problems, from @lionelandellen. They will then try to reply to as many of them as possible... all on Valentine's Day.
Shoot it Yourself, a wedding video company, has arranged for the couple to use the social networking site and to answer the questions, as reported in Daily Mail.
Lionel and Ellen Buxton, whose married life is the longest in the country, according to IANS, met in March 1930.They grew up in London's East End and met while working at the Henley Cable factory in north Woolwich. Apparently, Ellen used to seek technical help from a certain apprentice engineer in the factory she worked.
That apprentice engineer married her at Plumstead, South London, in July 1936. Today they have one daughter and four grandchildren.
"She was lovely. I always looked forward to when she needed help from me. We got on so well, went on a few dates together and became a couple. We ended up getting married. We would have done it sooner but could not afford it," said Lionel.
In a touching reaffirmation of their love for each other, the couple has been quoted as saying they have never spent more than a single night away from the other, in nearly eight decades.
"We have never been apart really and have never wanted anyone else. We have been married happily because we have been good friends as well as husband and wife. We have always made sure we have had nice evenings out together. Whether it is going for a romantic meal or out to play bingo," the Daily Mail quoted Ellen, 100. Amusingly, Lionel who will be turning 100 in March, calls himself his wife's toyboy.