The Vampire Diaries characters Bonnie Bennett (Kat Graham) and Damon Salvatore (Ian Somerhalder) are hanging in some other plane of existence after vanishing existence in the season 5 finale.
Will Damon and Bonnie hook up while trapped there?
Although Damon and Bonnie had a relationship in The Vampire Diaries books they haven't been very friendly through the first five seasons of the television show.
Executive producer Julie Plec told Entertainment Weekly, "To me, in spite of what Bonnie and Damon had in the books, that kind of relationship would only be born out of chemistry, and an on-screen connection."
Plec also said that Ian Somerhalder (Damon) and Kat Graham (Bonnie) "are super close".
She said: "They love each other. They're very excited to work together. There could be instant chemistry there that we all sit back and watch like we did, frankly, with Klaus and Caroline, with that very first scene. There was never any plan to have romance, but he cures her on her freaking birthday and all of a sudden, the world is melting." reported Epoch Times.
"You never know," Julie teased about a possible "Bamon" hookup in season 6, "but what we did want to do is we wanted to service the Bamon relationship from the books and at least give those two characters an opportunity, that we never thought we'd have frankly cause they never liked each other, and for good reason to bond and get close and to be comrades.
"So it will start there, and it may never go any further, that's not the plan, but you never know."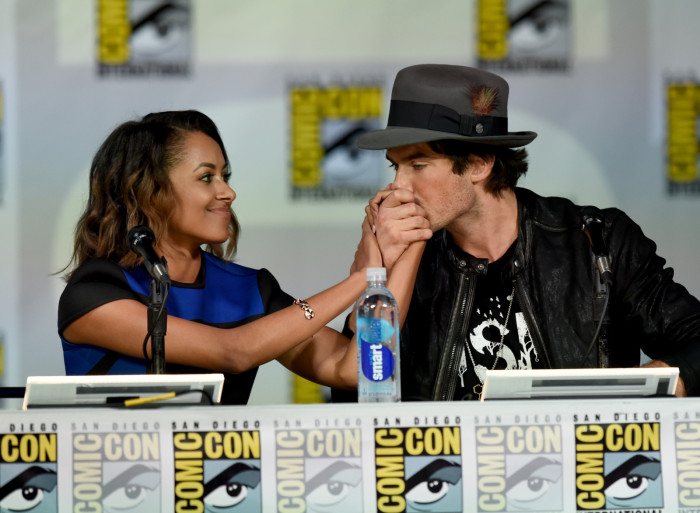 Asking about the Damon-Bonnie pair-up, Plec previously told TVLine: "Where they are is part of the mystery of the beginning of the season. It's not torturous, but it's by no means a roller-coaster ride of fun. If nothing else, it's a bit of an existential experience."
She elaborated when asked how aware Damon and Bonnie will be of their new surroundings.
"They'll be aware that they're no longer where they thought they were — but they're also not dead, per se," she said. "They'll be asking a lot of questions, along with the audience, including: What's going on? Where the hell are we? And how do we get home?"
So will what happens in the other world stay in the other world, or not?
The Vampire Diaries season 6 premieres on October 2.