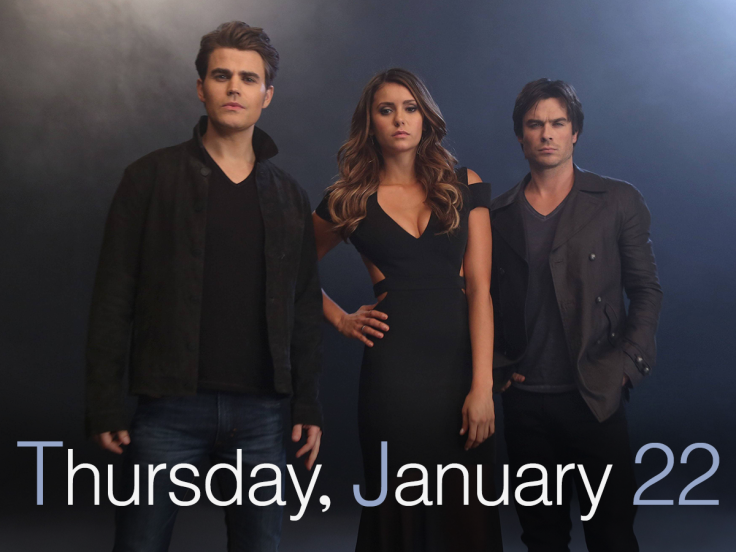 Delena fans could get a lot to rejoice when their favourite series the Vampire Diaries season 6 returns after its brief winter hiatus.
Elena Gilbert (Nina Dobrev) may rekindle her romance with Damon Salvatore (Ian Somerhalder) during the winter premier of the smash-hit CW supernatural series.
The Gilbert daughter had erased all of her romantic memories with the Salvatore vampire at the start of season 6 as she thought he was dead on the Other Side.
In the mid season finale, Elena was kidnapped by the vicious Kai from where she will try and escape in order to get back to her toxic love.
"Elena's resolutions for 2015 include escaping Kai's clutches — who she could be calling in this photo from the winter premiere — and rekindling her romance with Damon," TV Line suspects in its report.
Meanwhile, TVD producer Caroline Dries has teased a possible Delena reunion during season 6B.
"Elena finally knows she needs to confront her feelings for Damon — and she will, in a sort of a honeymood period, Dries told Alloy Entertainment.
"When we first got them together at the end of season four and they kissed in front of the fireplace, we then cut to three months later."
"What we were excited about doing with their relationship and interested in playing around a bit with were those initial stages. It's a little awkward and weird and you are nervous about what to say — basically all those things we didn't get to see the first time around — but, all in all, it'll be fun to watch."
However, there are reports that Bonnie will finally escape the time trap and will get back to Damon.
The Salvatore brother, who is in immense guilt about leaving the Bennett witch alone with the psychopath Kai, will be drawn towards her and this might create an interesting love triangle in Mystic Falls.
It will be interesting to see how Somerhalder's character will justify his devotion towards both the ladies in TVD season 6.
The Vampire Diaries season 6 returns on CW on 22 January.