The stats are widely in favour of Robin van Persie to fire Arsenal past AC Milan on Wednesday night, despite Serie A strikeforce Zlatan Ibrahimovic having scored in four consecutive European appearances.
Ibrahimovic has scored four goals in his last four showings for AC Milan in the Champions League, but van Persie can boast a far better accuracy with his strike rate, according to Castrol EDGE Performance data.
The Arsenal hitman is on target 80% of the time in European football this season, while his Sweden counterpart has come close to the net just 59% of the time.
Van Persie's goal scoring capabilities have put him in the same league as the world's best players, and excluding penalties, he has scored more goals this season that Cristiano Ronaldo, and the same amount of league goals as Lionel Messi at 21 so far.
Van Persie is also dangerously close to the Ballon d'Or winner on his conversion rate, with 23.6% of his shots finding the net while 24.7% of Messi's do the same.
When Arsenal drew AC Milan in the Champions League last 16, Gunners fans knew that luck had not been on their side, with the Italian outfit one of the toughest to beat in Europe.
But Thomas Vermaelen told the official Arsenal website today that he is relishing in the clash, which will be particularly tough given Milan's history in the tournament.
"We are all really excited," he said. "It is a big game - an important one too - so it's a good one to look forward to. For everybody it will be special so it will be a great evening.
"Of course they have a great history and they have won it a few times. They still have some good players and they are a solid team. They are also doing well in Serie A.
"It won't be easy but I am confident that we can qualify.
"The San Siro is a great stadium of course and it will be a great evening. I think it is probably the best game of the round and a lot of people will be watching."
And Arsenal will be hoping that van Persie's goal scoring abilities continue as Arsenal aim to break their trophyless spell.
Robin van Persie v Zlatan Ibrahimovic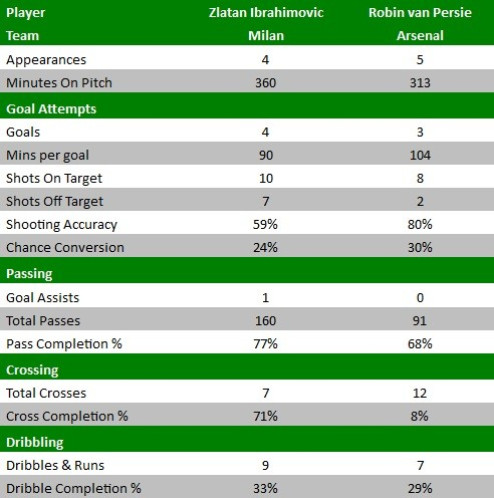 Goals scored this season excluding penalties: