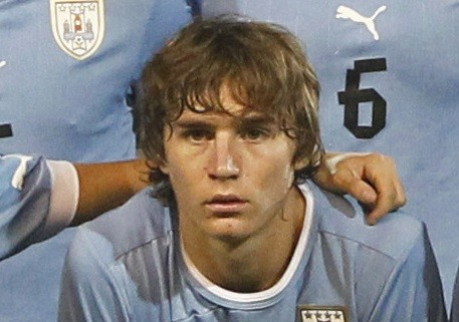 Manchester United have agreed a £2.4m deal to sign defender Guillermo Varela from Penarol as the first signing since the appointment of David Moyes as manager.
Moyes won't be begin his official tenure at Old Trafford until 1 July, but United have wasted little time in sealing their first signing of the summer transfer window.
Varela spent several weeks on trial at United earlier this year and the club have opted to take an option to sign the full-back on a permanent basis.
The Uruguay Under-20 international, who will represent his country at the upcoming World Cup in Turkey, flew into London on Thursday, ahead of a medical on Friday, after Penarol treasurer Rofolfo Catino confirmed the move on Twitter.
"I will have a medical on Friday and on Saturday I join the Uruguay Under-20 national team," Varela said.
"I will have to learn English, Rodolfo Catino [Penarol's club treasurer] taught me something, the structure is impressive."
Catino himself confirmed that United had agreed a fee with Penarol over the signing of Varela, but that no sell-on clause had been inserted in his contract.
"The deal has been agreed, we now have to discuss some points, there won't be any percentage regarding any future transfer," Catino told radio station Futbol a lo Penarol.
"The deal can be as much as €2.8m (£2.4m). Guille will adapt quickly to Manchester."
The 20 year old will add to United's growing South American contingent upon his arrival on Friday following a successful trial spell which was helped by Mexican striker Javier Hernandez, who assisted Varela in settling in England.
"I have trained with the first-team," Varela told Tirando Paredes.
"I am very happy and I was received very well.
"It was a surprise to get the chance to test with Manchester United. I'm glad and happy, and grateful to Penarol who allowed me to travel.
"I was treated so well and Chicharito [Javier Hernandez] helped me a lot. The work outs were short but very demanding."