Venezuelan President Nicolas Maduro joined opposition leaders of the Democratic Unity Roundtable (MUD) for a series of landmark meetings mediated by the Vatican. The talks which took place on 30 October in Venezuela's capital Caracas were meant to help dispel some of the political tensions and growing discontent in the nation.
The opposition made it clear from start that if some of their demands were not met immediately, they would boycott all future meetings with the government and continue their protests against Maduro.
In a statement made prior to the talks, the opposition delegation said that it would "demand an end to the repression and persecution of democrats and the people, and will walk away from the dialogue if the demands are not resolved in the short term".
The primary demand was for a new plebiscite after authorities recalled a referendum that would have led to Maduro losing presidency. They are also demanding freedom for political prisoners, humanitarian aid amid an unprecedented economic downturn, and respect for the opposition-led National Assembly.
Speaking at the meeting, Maduro expressed an interest in finding a consensus "in the interest of the majority".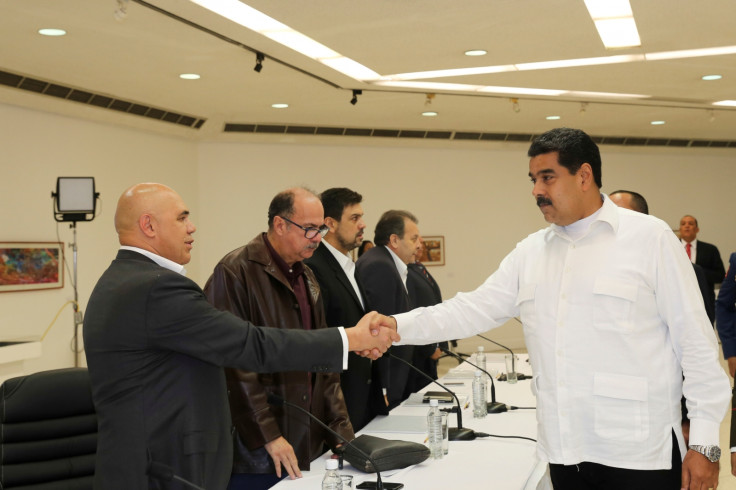 "I hereby stress my total commitment to this dialogue process. I am reaching out, extending my hand to talk with the MUD," he said. "Let us do our utmost to move forward in a progressive, sustained way."
The Vatican has been paying close attention to the political situation in Venezuela as over the past years, the country's economy has been on a downward spiral with many pointing the finger at the socialist government while demanding a revival of the nation's democracy.
"The Pope is following the situation of this country very closely and hopes this process can continue peacefully," said papal envoy Archbishop Claudio Maria Celli who mediated the dialogue.
"The good intentions of both parties need to be highlighted; the country is waiting for genuine signs so they know that the dialogue is a reality and is something that is taken very seriously," he added.
Expressing lack of faith that dialogue with the government would make a difference, the Popular Will party of jailed protest leader Leopoldo Lopez opted to abstain from the talks. "We have always believed in dialogue... but there has been no sign of rectification by the regime," the party said.