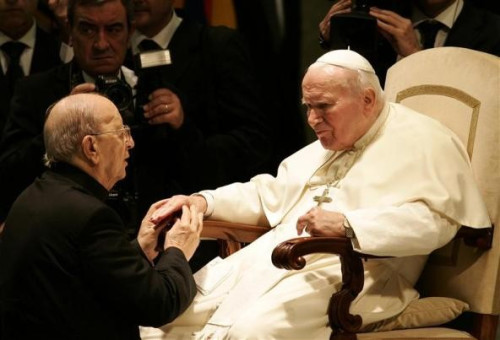 The Vatican has been heavily criticised at a UN hearing in Geneva for covering up sexual abuse against children and failing to protect them from paedophile priests.
It was denounced for its handling of the worldwide priest sex abuse scandal, which the UN said "was not very transparent".
Kirsten Sandberg, the chairwoman of the committee, said: "The view of committee is that the best way to prevent abuses is to reveal old ones - openness instead of sweeping offences under the carpet.
"It seems to date your procedures are not very transparent."
Since headlines emerged exposing the alleged sexual abuse of children by Catholic priests, the Vatican has insisted it is not responsible. It claimed the abusers were not employees of the Vatican, but members of the broader Catholic Church over which it has limited control.
A member of the UN, the Vatican is being held accountable for supposed breaches of the UN Convention on the Rights of the Child, which calls for signatory parties to protect children.
The Holy See, the episcopal jurisdiction of the Catholic Church in Rome, gave formal consent to the convention in 1990. However, it did not provide progress reports for almost a decade. It submitted one in 2012, after the 2010 exposure of global child sexual abuse cases.
Sara Oviedo, the UN committee's main human rights investigator, highlighted the "efforts to cover up and obscure these types of cases". She notified the Vatican representatives that priests accused of abuse had been moved to different parishes, instead of the police being notified. She criticised the Catholic Church's "zero tolerance" policy.
Another UN panel member, Hiranthi Wijemanne, asked: "Why is there no mandatory reporting to a country's judicial authorities when crimes occur? Taking actions against perpetrators is part of justice."
Archbishop Silvano Tomasi, the Vatican's UN ambassador in Geneva, said: "Priests are not functionaries of the Vatican. Priests are citizens of their own states, and they fall under the jurisdiction of their own country.
"It is a no-go simply to move people from one diocese to another."
Chruch officials insisted that the Vatican had little jurisdiction to sanction paedophile priests, but conceded that more needed to be done to build on progress already made.
It was the first time the Vatican had to publicly defend itself against paedophilia allegations. Critics have long argued that Church seniors had turned a blind eye to the rape and sexual abuse of thousands of vulnerable children and covered up clerical abuse to defend the insitution's reputation.
Groups representing victims presented the committee with hundreds of pages of documents.
They also demanded to know why senior clerical figures failed to protect children from notorious paedophiles, such as Marcial Maciel, an acquaintance of John Paul II.