A Venezuelan judge, who upheld the 14-year-sentence against the opposition leader Leopoldo López, has been shot dead. The general attorney's office confirmed his death on Twitter.
Nelson Antonio Moncada Gómez was also robbed by the gunmen. He was returning to his home on Wednesday (31 May) night when the incident happened.
The 37-year-old's murder has brought the number of deaths in the ongoing violence across the country to 61, the Guardian reported.
Venezuela's Public Ministry has launched an investigation into the case, but it remains unclear whether he was attacked by common criminals, or if he was the target of the opposition.
Some reports claimed that the Caracas judge was killed after he tried to avoid a barricade. Moncada was trying to escape a criminal gang that operates in one of the most dangerous slums of the city when he was shot down, reports said.
Others said that the judge was accidentally killed by pro-government people seeking to frighten demonstrators, while government supporters blamed opposition for it.
Venezuelan Interior and Justice Minister Nestor Reverol said on Thursday that he believed Moncada could have been the target of opposition as he was one among several judges who upheld the sentencing of Lopez – convicted for inciting violence during anti-government protests in 2014.
Though Reverol failed to provide any evidence in support of his statement, he said: "The victim was intercepted by several subjects who were at a barricade and he was attacked and killed by them (...) but we are not ruling out the possibility that this was a hit job hired by the terrorist right."
Anti-government demonstrations started in the country in early April after the Supreme Court annulled the opposition-dominated National Assembly and remove lawmakers' immunity. Although the court retracted the ruling, there is still widespread anger against the government.
More than 60 people have died across the country and hundreds have been injured in several rallies over the months.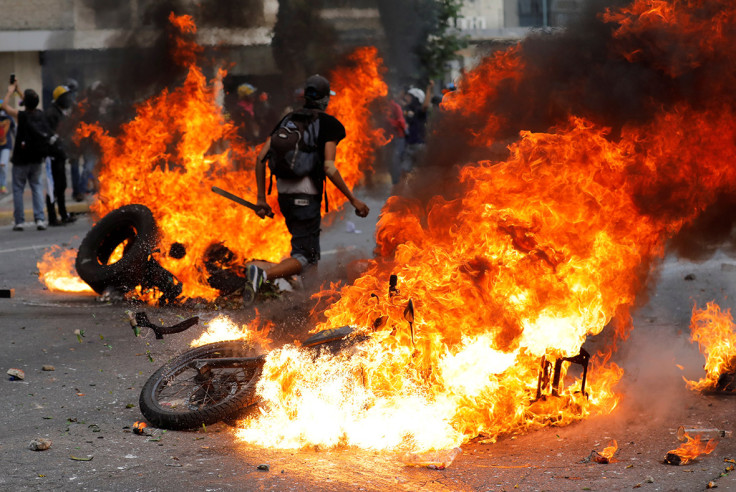 However, the latest protests intensified in May after President Nicolás Maduro called for the rewriting of the country's constitution in a bid to control the ongoing protests against his government.
But the government's opponents said that the president's move towards a constitutional shake-up is a "coup".
Despite having the world's largest known oil reserves, Venezuela is going through an unprecedented economic crisis.
While Maduro's critics blame him for the disaster in the country, the president has alleged that the opposition and business community are responsible for the shortage of essential supplies.
The socialist president has accused his opponents of blocking the supply of medicines to create a health crisis, which would help them plan a coup against him.
The country's economic miseries are likely to take a turn for the worse, with the International Monetary Fund (IMF) predicting that inflation will rise to 720% in 2017 and to over 2,000% in 2018.