Thousands of Venezuelans spent the night outside the San Antonio de Tachira customs office, after President Nicolas Maduro authorised the border crossings with Colombia to be opened for 12 hours only. The temporary opening of the border gave Venezuelans the opportunity to buy much needed food and medicine, of which supplies are limited in their home country. This is due to severe economic crisis that has caused critical shortages of basic necessities, due to a decline in Venezuela's oil revenues – despite it being one of the largest in the world.
Venezuelan Carmen Velazco described the situation in Venezuela as drastic, telling Reuters: "We don't have food. We don't have cooking oil. We don't have flour. So that is why we have to come here,"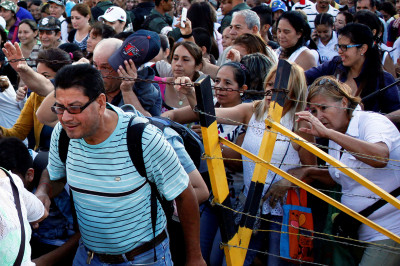 The Colombian government provided bus transportation to take shoppers to the local amenities where they could buy what they needed. Colombian shops accepted the Venezuelan bolivar, with shops shelves being reportedly empty by mid-morning.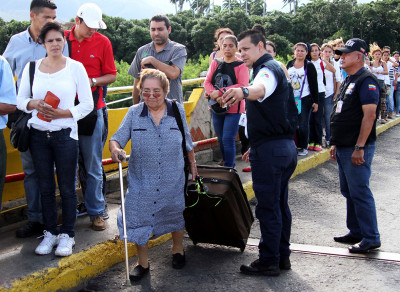 Queues of people filed over the Simon Bolivar international bridge in order to reach the neighbouring country. For many, the luxury of being able to buy simple household goods was a moving moment.
Venezuelan homemaker Ada Marquez told Reuters that she was "crying as I crossed the bridge when I saw the avalanche of people. It's unbelievable to me that all of Venezuela wants to come here, to this neighbouring country, to look for the things we can't get over there. Every day, there are fewer things."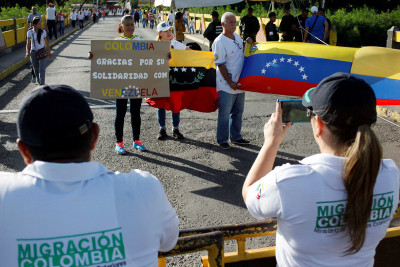 The opening of the border comes only a year after Venezuelan President Nicolas Maduro ordered it to be closed, in a bid to cut down on smuggling. Colombian Governor William Villamizar of Norte de Santander estimated that roughly 35,000 Venezuelans crossed the border into nearby Colombian cities like La Parada and Cucuta.