As the economic crisis in Venezuela worsens each day with acute shortages of basic supplies, people are turning to garbage in search of food to fight hunger. The Venezuelan government has said it has made arrangements to import essential food supplies, which will be given to the locals through the government's new food redistribution system.
According to BBC, Venezuelan Food Minister Rodolfo Marco Torres said the government had purchased 115,000 tons of basic items like rice, sugar, maize and beans. They will be handed out through a network of so-called Local Supply and Production Committees (CLAP), comprising of Socialist Party members. They will be in-charge of controlling food supplies in the country to prevent black market sales, and door to door distribution of food.
Torres said 70% of the food supplies will be distributed through this system. Opposition leaders have criticised the move saying it will discriminate against them as the new method will use food as a way to persuade citizens into supporting the government.
The oil-rich country has been witnessing protests every day over shortages of food, electricity and other essentials, with regular incidents of looting and public demonstrations. Tens of thousands of people are calling for President Nicolas Maduro to resign for what he himself had called an "economic war".
At present, Venezuelans have to buy food through the rations system, which due to shortages, forces people to stand in queues at supermarket for a couple of hours.
Under the new system in association with CLAP, food bags will be distributed door-to-door, and the families who register for the system will be handed bags with various food items likes flour, maize, pasta, rice, sugar and oil. The government has said the bags will last for 21 days.
An Opposition coalition leader, Jesus Torrealba, said the government was trying to "blackmail people through their stomach" by introducing the new plan. The CLAP's director, Freddy Bernal, said some 50% of these items would be supplied to the private sector.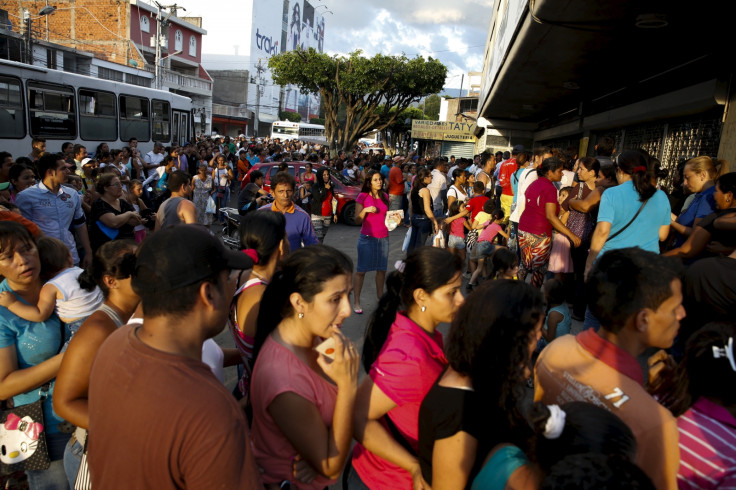 Julio Noguera, who used to work in a bakery, is one of the Venezuelans affected by the food shortage. He spends his evenings searching for leftover food in the garbage to eat. "I come here looking for food because if I didn't, I'd starve to death... no one helps anyone and no one gives away meals," AP reported quoted him as saying.
"We're seeing terrible sacrifices across many sections of society," Carlos Aponte, a sociology professor at the Central University of Venezuela, said. "A few years ago, Venezuela didn't have the kind of extreme poverty that would drive people to eat garbage."
A study by three top Caracas universities has found that 76% of the country's nationals are living in poverty, as compared to 52% in 2014.