The death toll in Venezuela has risen to at least 29 since a wave of violent protests against unpopular President Nicolas Maduro began four weeks ago. Security forces clashed with rock-throwing protesters in the capital city Caracas on Wednesday (26 April), forcing police to use tear gas volleys and water cannons to disperse the crowd.
Venezuela's opposition leaders also claimed that the security forces used tear gas against demonstrators outside an elementary school in Caracas, affecting children there.
A 20-year-old man is reported to be the latest victim to have died in the clashes after he was hit by a gas canister, officials in Chacao district in eastern Caracas said.
Officials also reported two new deaths from earlier this week — a 22-year-old anti-Maduro protester died of multiple gunshot wounds in Valencia city, and a 28-year-old government supporter who was shot in the stomach in Tachira state also died.
Clashes intensified on Wednesday after an opposition march led by thousands of demonstrators was blocked by National Guard troops and police.
Masked youths in east Caracas hurled tear gas volleys – that were thrown at them – back at the security forces, Reuters reported.
Tensions have been running high in the oil-producing country, especially after the pro-Maduro Supreme Court stripped the opposition-dominated National Assembly of its powers on 29 March.
The move sparked massive protests and widespread international condemnation. The top court had to reverse its decision on 1 April after opposition supporters protested in Caracas.
Wednesday's protests were part of ongoing demonstrations against the leftist Maduro government. The opposition accuses Maduro of seizing dictatorial powers and trying to evade new elections, amid a severe economic crisis.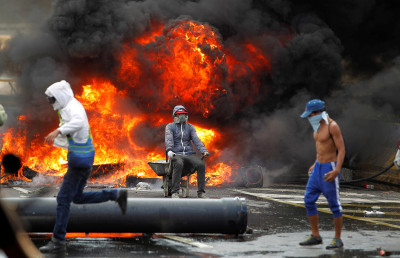 Maduro accused the opposition of not wanting peace in the divided Opec nation as he addressed his supporters in Caracas on 26 April.
"These people [opposition] do not want peace, they have hit a dead end and want to drag us all down their path. The right want to take all of Venezuela down its path of violence and hate. Are we going to go with them? [Crowd shouts, "No!"] I want peace, only with peace can we be able to overcome the problems that we have and those of the future," Reuters TV cited Maduro as saying.
International pressure on Maduro has also grown, with the Washington-based Organisation of American States (OAS) regional bloc voting on 26 April to hold a special meeting of foreign ministers to discuss the state of the crisis in the Latin American country.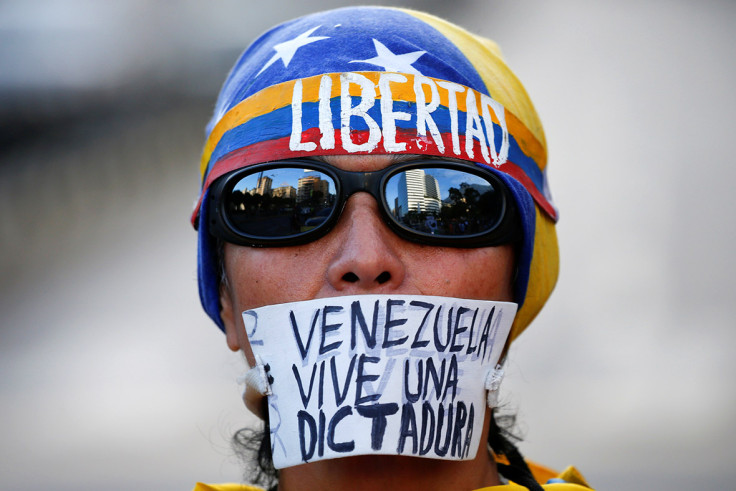 Foreign Minister Delcy Rodriguez threatened to pull out of the OAS if the group meddled in Venezuela's internal affairs.
The 54-year-old president was elected to office in a narrow victory in 2013, but his ratings soon tumbled to just over 20% as Venezuelans struggled to cope with years of recession. Maduro has maintained that his country has become a victim of an "economic war" that he blamed on Washington. He also alleged that the US is planning a coup against him.