The opposition leader of Venezuela, Henrique Capriles, has accused President Nicolas Maduro of inflicting "savage repression" on the country's people. His comments come amid simmering political unrest in the South American country, with people taking to the streets in violent protests against the incumbent government.
The 44-year-old governor of Miranda told the BBC that early general elections are the only solution to end the crisis that has engulfed the country.
"How long can Maduro stand denying Venezuelans the right to vote? I don't think much long. Nothing that the government is doing is in defence; it's repression, savage repression that violates our constitution and human rights," Capriles said.
Capriles, who was defeated narrowly by Maduro in the 2013 presidential election, denied any kind of division in the country.
"There is no fight between different sectors of the Venezuelan people. That's over in Venezuela. There is no division among Venezuelans," he said.
"No more than 20% of Venezuelans" supported the president's socialist government, he added.
The death toll in the wave of violent protests that began four weeks ago has risen to 30, with authorities accusing Capriles of inciting violence.
Protests began after the Supreme Court magistrates on 29 March issued a ruling removing the last vestiges of power from the opposition-controlled congress.
Although the court retracted the ruling three days later, there is still widespread anger against Maduro's government with no peaceful resolution expected anytime soon.
"When this is going to stop? I don't see the people giving up fighting for their country," Capriles said.
In early April, the Venezuelan comptroller's office banned Capriles from holding political office for 15 years. The move is seen as likely affecting presidential elections in 2018, considering Capriles is seen as a strong contender to challenge President Maduro.
The opposition is calling for early elections, which is scheduled for late 2018, as they blame Maduro and his government for the continuing crisis in the country. On the other hand, the president has alleged that the opposition and the business community are responsible for the shortage in essential supplies in the country.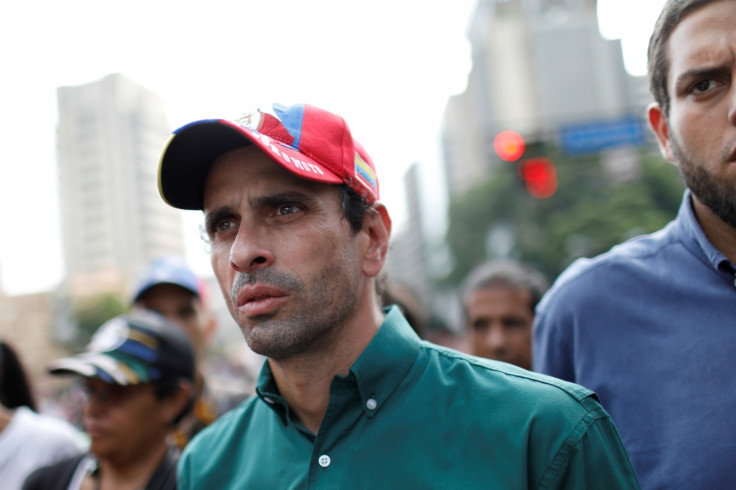 "There is no electoral calendar. We're the only country in the Americas where you ask when the elections are and there's no answer," Capriles said, while demanding the release of opposition politicians arrested since Maduro took office.
"They [the government] are, at this moment, like a kidnapper who's surrounded by police but believes he will be able to kill the hostages, kill the police and escape unharmed.
"They are wrong; they made a miscalculation," he added.