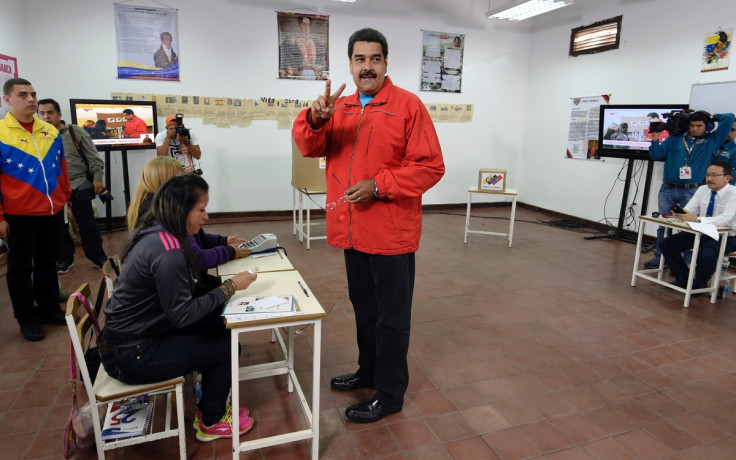 Venezuelans will head to the ballot box to vote in congressional elections which are set to become the first serious challenge to the ruling socialist party – the PSUV. Venezuelans were awoken at 5am on 6 December to remind them to head to the polls, which will see 167 National Assembly members elected.
The oil-rich nation has faced tough times since the death of its former leader Hugo Chavez in March 2013, with food shortages, inflation and rising crime. This has led to the emergence of a strong opposition to the PSUV that has won ground because of increasingly frustrated citizens.
Political experts agree that the opposition is stronger in the cities, while the PSUV, ruled by President Nicolas Maduro, enjoys support in rural areas. The former bus driver will continue to control the presidency after the vote until 2019.
Although a victory for the opposition would not allow the Democratic Unity Roundtable (MUD) to reform the government, it could mark a significant political shift for Venezuela.
But the amount of power in the MUD's hands depends on the amount of votes they receive. Two thirds of the seats would mean they could sack cabinet ministers and name new directors to the National Electoral Council, which is often criticised as pro-PSUV.
With a simple majority the MUD could open investigations into state agencies, interrogate cabinet ministers and put pressure on for the publication of economic indicators such as inflation, that have been secret since the economy has begun suffering.
Flights to Venezuela have been packed with returning citizens keen to vote in the elections as many professionals, students and the upper classes have fled the country in recent years. In the past elections have been marred by violence and voting irregularity, but only "isolated" incidents have been reported so far.
Maduro, the named successor for Chavez, cast his vote in the capital Caracas with salsa musicians and supporters chanting the catchphrase "by any means necessary". He said: "Chavez's people, let's vote for a perfect victory" and promised to continue Chavez's 'Bolivarian revolution'.
The MUD have criticised the government for what they say has been increasing authoritarianism and food shortages of foods like milk, rice, coffee, sugar, corn flour and cooking oil are commonplace. Opposition leader Leopoldo Lopez was given a 13-year prison sentence earlier this year for inciting violence and a majority to the MUD could help hold a review his conviction which they have said is politically motivated.