Venezuelan President Nicolas Maduro has accused his opponents of "training children for terrorist groups" as the near-daily protests on the streets of Caracas have led to the deaths of more than 60 demonstrators. In a bid to stop children participating in the violent clashes, Maduro said he would write to Pope Francis seeking his help.
"I am going to ask Pope Francis to help us so the opposition end the violence, but more than anything to stop looking for children to involve in violent acts," he said on a weekly television broadcast on Sunday (11 June).
At least 67 people have been killed from both sides of the political divide in violence related to pro- and anti-government rallies, where protesters clashed with security forces. The protests are aimed at ousting Maduro, who has been accused of taking the country towards dictatorship.
Of the 67 victims, at least six protesters were reported to be under 18 years of age, according to Reuters news agency.
Demonstrators have been using everything from petrol bombs to faeces at security forces, who in turn have resorted to tear gas, rubber bullets and water cannon to subdue the mobs. Youngsters participating in the protests wearing face masks and throwing rocks have been a common sight since the clashes began in April.
Both the government and the opposition have appealed to the Vatican to mediate a solution. But when similar church-mediated talks took place late last year they quickly broke down in hostility.
A couple of violent incidents have taken place at churches and other religious institutions as well during the ongoing protests, straining the relations between the Maduro government and the country's Catholic hierarchy.
Venezuela's bishops' conference wrote a letter to the pope last week accusing Maduro of being a dictator. The bishops also aligned with the opposition's view that Maduro is plotting to consolidate his power by calling for a new legislative body through elections on 30 July to rewrite the constitution.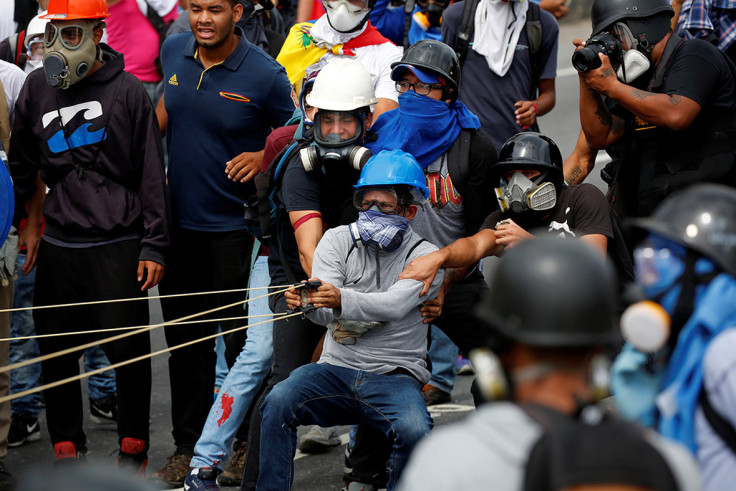 Maduro has been saying that a constitution different from the late president Hugo Chavez's 1999 constitution will resolve the political crisis.
However, Maduro's opponents want a referendum to remove him, and hold presidential elections earlier than those scheduled in 2018. They have been blaming Maduro for the dire situation in the oil-producing country that has led to an acute shortage of food and medicines.
But Maduro in turn has alleged that the opposition and business community are responsible for the shortage of essential supplies.
Despite having the world's largest known oil reserves, Venezuela is going through an unprecedented economic crisis, with inflation soaring to 700%.