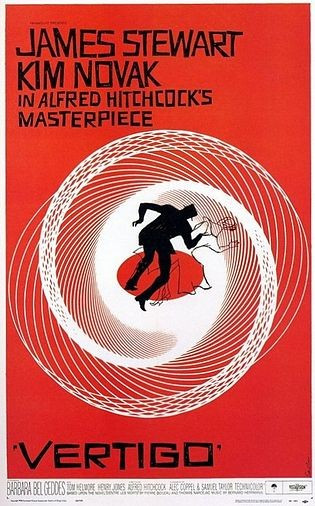 Alfred Hitchcock's Vertigo has been named the greatest film of all time, in a poll conducted by the British Film Institute's Sight and Sound magazine. Around 800 distributors, critics and academicians voted for Vertigo, the Daily Mail reported. Starring James Stewart and Kim Novak, Vertigo is about a retired cop who fears heights and beat out Orson Welles' Citizen Kane, an acclaimed classic, to take top spot.
"It feels like a much more contemporary film than Citizen Kane, which is a lot of bombast and is very theatrical and slightly hammy by modern acting standards. Vertigo is about our inner life," Sight and Sound editor Nick James said about Vertigo.
According to the BBC, the film is famous for a camera trick Hitchcock invented to represent Scotty's (the character Stewart plays) vertigo - a simultaneous zoom-in and pull-back of the camera that creates a disorientating depth of field.
"It is a dream-like film about people who are not sure who they are but who are busy reconstructing themselves and each other to fit a kind of cinema ideal of the ideal soul-mate," said James, also calling it the "ultimate critics'' film. When the movie was released 54 years ago, the Manchester Guardian's film critic called it "most unlikely tale about a wife-murder, and tells it for more than two hours in a style that is slow, wordy and, apparently, casual".
Martin Scorsese, Quentin Tarantino, Francis Ford Coppola, Woody Allen and Mike Leigh were among the participants in the poll that decided the 50 greatest movies of all times.
Given below is the list of top ten movies in the list:
Directors' Top Ten Films
Vertigo (Alfred Hitchcock, 1958)
Citizen Kane (Orson Welles, 1941)
Tokyo Story (Yasujiro Ozu, 1953)
La Règle du jeu (Jean Renoir, 1939)
Sunrise: A Song for Two Humans (Friedrich Murnau, 1927)
2001: A Space Odyssey (Stanley Kubrick, 1968)8 ½ (Fellini, 1963)
The Searchers (John Ford, 1956)
Man with a Movie Camera (Dziga Vertov, 1929)
The Passion of Joan of Arc (Carl Theodor Dreyer, 1927)
8 ½ (Federico Fellini, 1963)