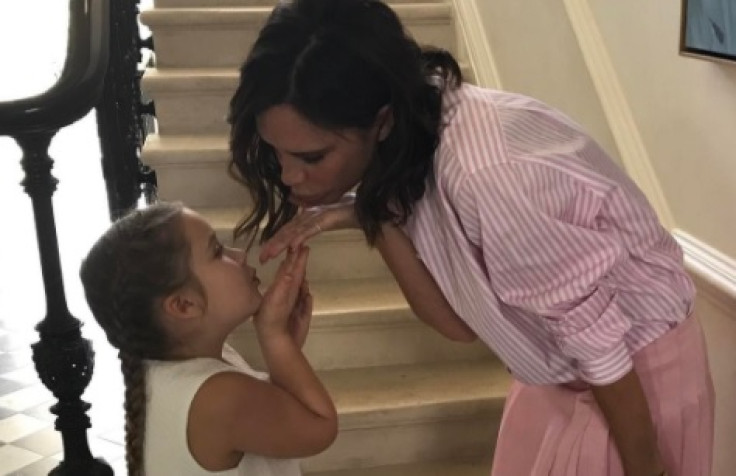 Victoria Beckham has gushed about the "sweet" letters that her daughter Harper likes to send her.
The former Spice Girl-turned-fashion designer, 42, previously shared an adorable card that the five-year-old made her for Mother's Day.
However it turns out that the cute gestures don't end there, as it seems Harper holds literary rather than musical ambitions.
"Harper is at that age now where she is very creative and loves to write me letters which is very sweet. She's nearly six now, she is growing up so quickly," she explained during a Facebook Live interview as she prepared to launch a sunglasses collection as part of her brand.
The mum-of-four's comments come after it was reported that she and retired footballer husband David, also 42, have enrolled the youngster in a prestigious stage school.
The Italia Conti Academy of Theatre Arts in central London charges parents £102 ($131) an hour for singing and dancing classes. It has a reputation for nurturing top talent and has produced stars including Karen Gillan, Pixie Lott and Tracey Ullman.
A source told the Sun: "She loves coming to the classes and has great potential.
"The students try not to make too much of a fuss when she comes in but some of the parents can't help but notice."
Harper has already been taking ballet classes since she was four years old.
Victoria – who is also mother to son Brooklyn, 18, Romeo, 14, and Cruz, 12 – first shared a snap of
Harper dressed in her ballet clothes back in December 2015. She wrote alongside it: "Mummy is so proud of her little ballerina X X vb."
It seems that Victoria has big plans for her youngest offspring having last year filed an application with intellectual property authorities in Britain and Europe to trademark Harper's name.
Ultimately, the move prevents anyone hoping to cash in on the Beckham brand worth more than £500m. The protective star does not like the idea of someone using the famous moniker, which was inspired by Harper Lee, the author of her favourite book, To Kill A Mocking Bird in the music, film or TV industries.
And it does not stop there. Unless Harper or her parents decides to launch her own line of toys, perfumes or clothes, the name ''Harper Beckham'' is prohibited from commercial use.
The name is also reserved for exclusive use in the entertainment industry, should a career in music, television or film await.