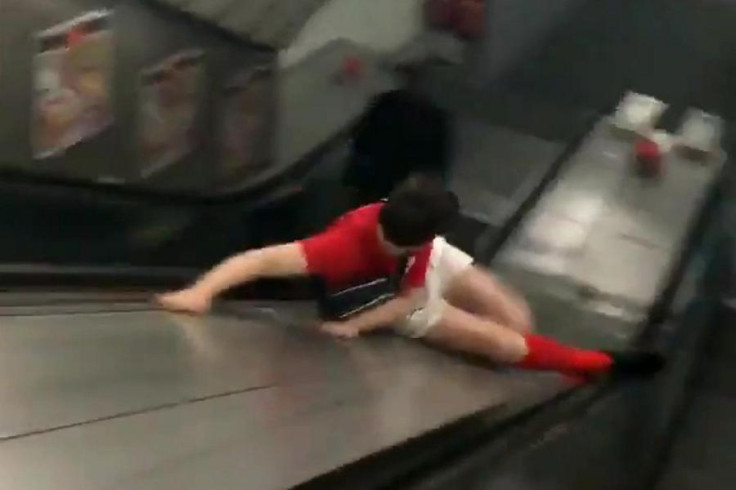 After ten pints of beer a darts fan decided to take the quick route down a London Underground escalator – and ended up becoming a Christmas internet sensation.
Freddie Andrews was on his way home from the PDC World Championships at Alexander Palace in north London when he decided to slide down the metal chute between two escalators as a prank.
Dressed in a full football kit the 22-year-old slid down the chute at London Bridge station while being filmed by his friends on Wednesday evening (20 December).
As the Asda worker speeds up, he smashes his private parts into an emergency stop button, prompting howls of laughter from his friends.
He then careers another 40ft before hitting a metal sign that catapults him onto the opposite escalator, landing in front of a stunned man.
Andrews, from Tonbridge, Kent, told the Evening Standard: "I was that drunk – I'd had about 10 pints – the escalator was free and I thought, 'why not?'
"It was faster than I thought it would have been. But as I was sliding I couldn't stop myself and had no choice.
He told the Sun: "I had drunk enough not to feel the pain. I woke up this [Thursday] morning and couldn't move, but I'm fine now."
The video has gone viral online and has been viewed nearly 10 million times.
Actor John Barrowman wrote on twitter: "What an idiot, but too funny."
While Labour MP for Tottenham David Lammy tweeted: "MIND THE GAP."
But London Underground did not see the funny side.
A Tube spokesman said: "Safety is our top priority and pranks like this are dangerous for not only those involved but also to other customers.
"We have frequent PA announcements reminding customers to be careful when using escalators, and we also run safety campaigns throughout the year to encourage customers to take care while traveling on our network."