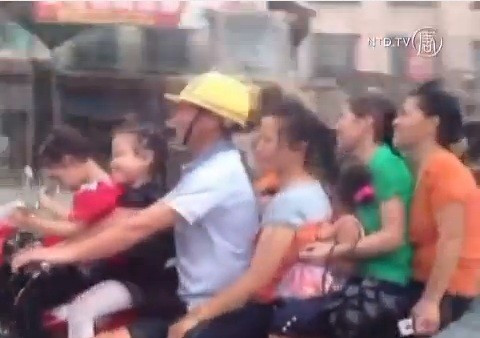 Video footage of eight people riding a motorbike on a public road in Linxiang, central China, has left viewers stunned.
In the 50-second clip, a middle-aged man rides his bike with three women and two girls in front of him and two more children behind him.
Despite the excessive weight, the dangerously overloaded motorbike speeds up and cuts across different lanes.
The online community has since flooded the web to share their reactions to the video, which has gone viral.
While some considered the mode of transport to be dangerous, others made light of the situation.
One commentator said: "Dangerous, do not wait until something happens to regret, it will be too late then,
Another wrote: "This is dangerous but imagine if they were all wearing yellow helmets they would look like the hungry caterpillar awww very cute!!"
China's Traffic Management Bureau branded the behaviour as "crazy".