Footage from the Syrian city of Hama has shown the destruction of the 'Cave Hospital,' an underground medical facility, located 50ft into the side of a mountain by pro-Assad bombs.
The damage to the hospital was caused by bunker buster missiles, reports on social media have claimed. The explosives, with a large payload, are used to destroy targets protected deep underground.
The Associated Press reported the Cave Hospital, or Dr Hasan Al-Araj hospital, was struck twice on Sunday. The UK based Syria Observatory for Human Rights reported Russian warplanes carried out the attacks that hit the hospital near the central village of Kfar Zeita, in central Hama province.
The hospital, which is named for a leading Syrian doctor who was killed outside the facility, is one of the largest hospitals in rebel held Syria.
The International Union of Medical Care and Relief Organisations (UOSSM) which runs the hospital has said attacks did not result in any casualties and said in a statement that the international community needed to hold the Syrian regime to account for its attacks on medical facilities.
"It is incomprehensible that no action has been taken so far with years of data on attacks on aid workers. Laws cannot be just or taken seriously if only applied when convenient," the medical union said.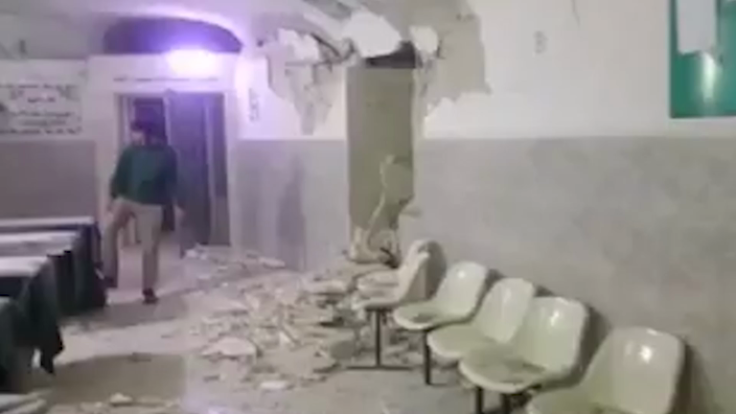 The attack on the Hama Hospital came just one day after barrel bombs struck the largest hospital in rebel held Aleppo. The medical facility, which is known as M10 because codes are used to protect the locations of hospitals in rebel held area, was hit by two barrel bombs with reports it was struck by an airstrike also.
Medecins Sans Frontières said in a statement at the time: "Bombs are raining from Syria-led coalition planes and the whole of east Aleppo has become a giant kill box. The Syrian government must stop the indiscriminate bombing; and Russia as an indispensable political and military ally of Syria has the responsibility to exert the pressure to stop this.
"[They] must put an end to the total disregard for humanity that is being displayed in Aleppo."