In a very shocking incident, a knife-wielding man in Kent, Washington attacked and attempted to rape a bikini barista.
The alleged attack took place on Tuesday, 20 February, morning when Michael Reynolds walked into the Hottie Shots Espresso to buy a cup of coffee. As soon as Madeline Guinto turned to her espresso machine to make the drink, he reportedly crawled through the window and tried to kidnap and rape her.
Video footage of the stand shows the 33-year-old suspect slowly sliding the window glass and climbing inside the store. He then jumps over the woman, who can be heard screaming "oh my God!" in the video after the attacker grabs her.
The surveillance clip also shows Reynolds dragging Guinto to her feet and saying, "I won't hurt you", The Daily Mail reported.
Authorities who responded to the scene said that the incident happened at around 4.45am local time.
The 30-year-old victim told authorities that the accused had put a knife over her throat and forced her to come with him. He then allegedly took her to a dark and secluded place, where he tried to rape her.
In her statement, she stated that throughout the ordeal, she kept fighting as hard as she could to get away from him. "I'm doing everything I can to stall him. I'm dragging my feet. I'm giving him dead body weight so it's not easy for him to just walk me over into my death. And I was just like, 'oh my god why isn't anyone pulling up," Guinto told KVAL.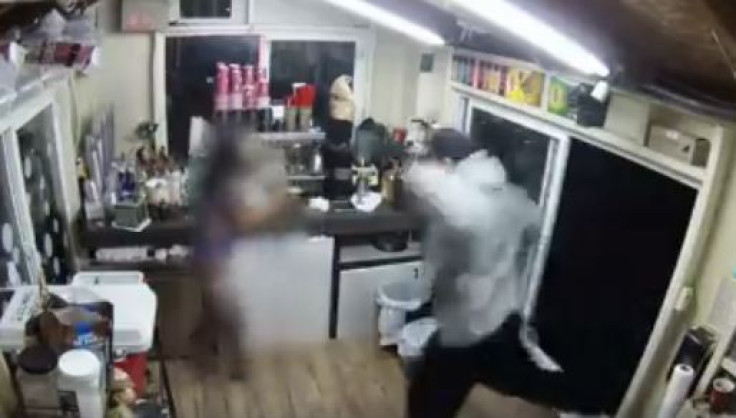 She added that while she continued her struggle, Reynolds suddenly got distracted, possibly from a customer pulling up to the stand, which gave her chance to run away from him. Guinto said she immediately approached the customer, who helped her call 911.
Kent police arrested Reynolds on Wednesday from a furniture warehouse, where he was employed.
Reynolds has already served a decade for robbery and burglary in jail and was released in September 2017.
"That's relieving just to know he won't ever get anyone again. I'm kind of just glad it's over," Guinto said, expressing her happiness over Reynolds' arrest.
She also wants to share her story with others so that people, especially women, don't fear their attackers and fight back. "It's sad that women don't realize how strong they really are. And, I don't know, maybe me sitting here will influence more people to be strong and to speak up and speak out," she added.