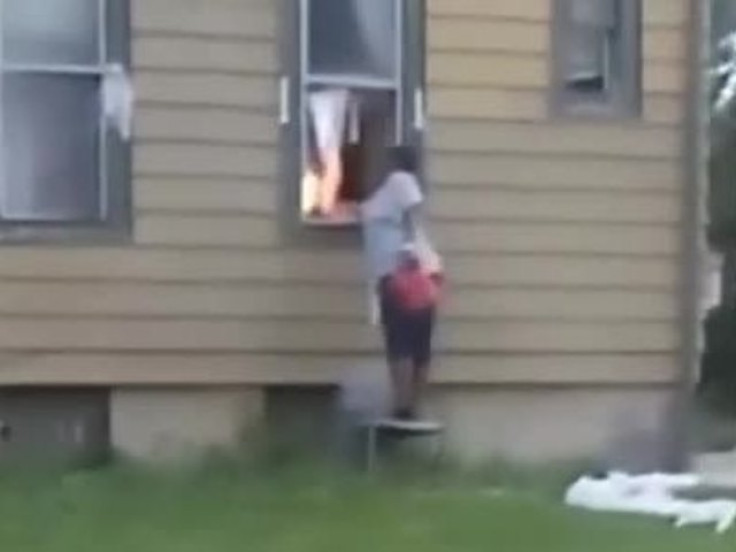 Police in the US state of Wisconsin are investigating a suspected homicide after footage emerged online of a woman pouring petrol through the window of a home and setting it on fire.
The blaze left a 72-year-old man dead, while one firefighter was also injured as crews worked to extinguish the flames.
Authorities were called to the scene, near 12th and W. Wright, in the city of Milwaukee, shortly before 7.45pm local time on Friday (16 June).
Mobile phone video footage of the moments leading up to fire was taken by Jestopher and Jessie Hinds, who were standing nearby with their cousin Travonta Richmond.
"We see a lady and she started busting out all the windows on the house," Jessie Hinds told Fox6 News.
They say they watched as the woman became more and more furious.
"She went inside the garage and grabbed a gas can," Jessie continued.
Richmond added: "She asks us 'one of y'all got a lighter?' And were like, 'no, we can't help you with a lighter'."
Jestopher Hinds went on to describe how the woman then "takes the chair, throws the gas can in there and sets the house on fire".
The woman can be seen in the video casually walking away as flames grow and smoke starts billowing from the home.
Another woman inside the home at the time can then be seen jumping from a ground-floor window.
The family of the suspect told Fox 6 News that a fight with her boyfriend prompted the arson attack. He lived at the property but was not at home at the time of the incident.
Bystanders said they attempted to help those trapped in the house but were pushed back by heavy smoke. Firefighters later found 72-year-old Willie Greer dead in the home.
"I'm just sorry for the loss [and for] the people that did lose a family member. I'm going to be praying for their families and just sorry we couldn't get them out of there at that time," Jestopher said.
Police said on Sunday they had arrested a 39-year-old Milwaukee woman in connection with the incident.
"This case will be presented to the DA's Office for charges in the coming days," the Milwaukee Police Department said in a statement.