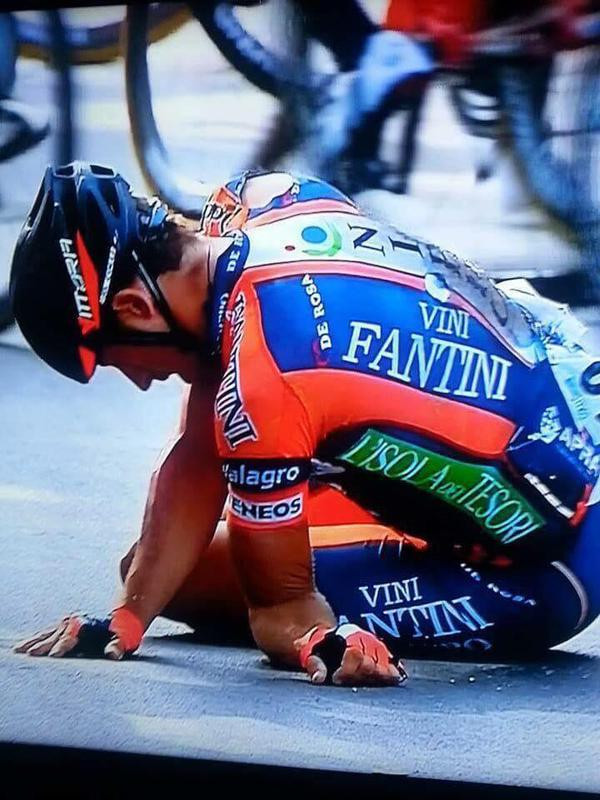 An oblivious fan leaning over a barricade into the line of traffic to snap a photo of cyclists in the Tour of Italy bike race triggered a major accident that left the overall leader with a dislocated shoulder and another cyclist with a broken bone.
Italian rider Daniele Colli was racing up the side of the road during a sprint at the climax of Stage 6 of the legendary race when he struck the spectator's camera and telephoto lens, crashing to the ground and breaking his arm.
A moment later leader Alberto Contador of Spain went flying, too, along with several other riders , reports the BBC. Contador climbed back on his bike and finished the stage that ended near Castiglione della Pescaia.
Colli, who suffered a compound fracture, later tweeted from a hospital bed that he was doing OK, and he thanked all his well-wishers. He said it was unfortunate that he crashed because someone was careless and that cyclists risk their lives and to please respect their work.
It's not clear if the spectator was identified or if the fan faced any kind of penalty.
"I haven't broken anything, but I have suffered a dislocation of the left shoulder," Contador said in a statement. "The doctors have recommended that I immobilize my left arm during the evening and night, while I try to move it a bit with the help of my other arm to promote the movement of the shoulder.
"I will try to start tomorrow on stage 7," he added. "I will try to continue until the very last moment. I'm optimistic about the start tomorrow, but we have to wait until right before the start to see what happens and how serious the effect of the crash is."
German Andre Greipel won Stage 6 of the Giro d'Italia
A spectator on a bike trying to ride with the racers also caused a crash last Sunday.