A nurse at the University Hospital in Salt Lake City, Utah has accused a police detective of assaulting and illegally arresting her after she followed a hospital policy that does not allow authorities to draw blood from unconscious patients.
The incident, which happened on 26 July, got recorded through the bodycam of detective Jeff Payne and the CCTV installed in the hospital.
In the video, Payne can be seen insisting the nurse – Alex Wubbels – to let him draw the blood sample from a patient who was also a victim in a car crash that led to a fatality in Cache County earlier in the day.
But, the nurse turned down the request stating hospital policies that bar anyone taking blood from an unconscious patient without his/her consent, unless there is a warrant allowing the draw or the patient is under arrest.
Payne, whose request did not get fulfilled, kept insisting and that led Wubbles to call several hospital officials, who repeated the same rule that she had already told him.
After a number of arguments and negotiations, Payne started to threaten Wubbles. The nurse can be seen in Payne's bodycam footage screaming and being dragged into the police car, while he forcefully arrested her.
"We are done, we are done, you are under arrest," the video showed Payne saying while he pulls Wubbles arms behind her back and handcuffs her.
"You're assaulting me stop! I've done nothing wrong! This is crazy! This is crazy," Wubbels is heard saying as she is being dragged out. "Why is he so angry?"
Wubbles was later released and no charges were put on her but during a press conference on Thursday (31 August), she released the video footage of the incident as evidence of how health care workers are being bullied and harassed by the authorities.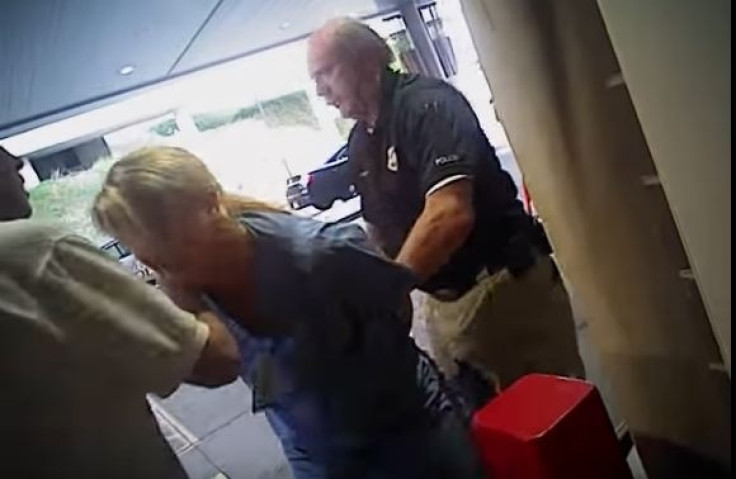 "I can't sit on this video and not attempt to speak out both to re-educate and inform," She said, adding police agencies "need to be having conversations about what is appropriate intervention".
Wubbles alleged Payne could not take no for an answer and consequently misbehaved with her.
"I just feel betrayed, I feel angry and I feel a lot of things. The only job I have is to keep my patient safe. Blood is your blood that is your property. When a patient comes in a critical state that blood is extremely important. I don't take it lightly," she added.
Salt Lake police Sergeant Brandon Shearer has responded on the incident and said an internal investigation is now underway. He said Payne has been suspended. However, he has not been taken off duty as the probe's result is still pending.