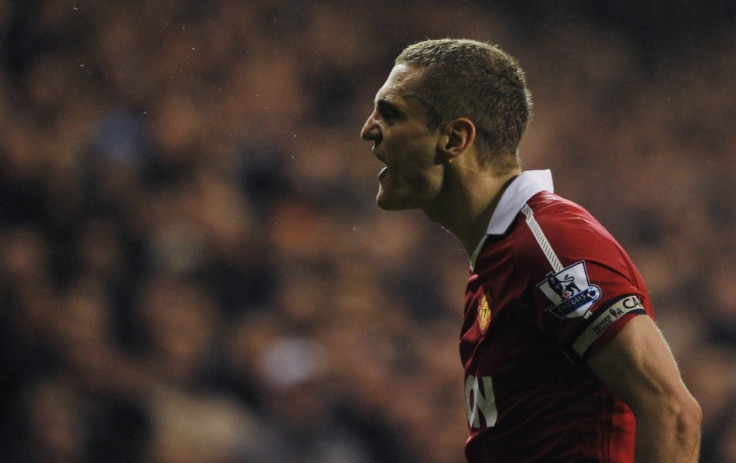 Injured Manchester United captain Nemanja Vidic has highlighted the importance of the upcoming festive period, even though he acknowledges he made a less than convincing start to his Old Trafford career when he first arrived in January six years ago.
The towering Serbian international is widely considered one of the finest defenders in Manchester United's history but he famously struggled to adapt to English football when he first arrived.
Vidic's transfer to Manchester United from Spartak Moscow was announced on Christmas Day in 2005, and having grown accustomed to the winter break in the Russian Premier League, the defender initially struggled with the rigours of English football over the festive period and new year.
Vidic gradually adapted to life at Manchester United and his career at the club has coincided with a prolonged spell of unprecedented success at Old Trafford. The injured centre-half, who has been ruled out for the remainder of the season, believes the next few weeks can be a burden both physically and mentally yet it can have its rewards.
"December and January can be very difficult mentally, not just physically," The Manchester United star told the club's official website. "When you play so many games in one year without a break it can be very hard. There's always pressure at this club; you have pressure to win this game and then the next game and then the game after that.
"If you do that for one whole year without any rest, without any time to relax or take your mind off football, this can be tough. But, I have to say, when I arrived here in England I found the winter much more difficult. Now we all know what to expect."
While acknowledging the inevitable mental fatigue, Vidic concedes Sir Alex Ferguson's Manchester United squad can benefit from the spate of fixtures which come thick and fast between now and February.
"Often we'll play on Wednesday and then Saturday, Wednesday and then Saturday. This helps you get into a rhythm and training during this time is all about recovery and rest. Physically, it's easier on your body when you're not travelling for international football." The Manchester United hero continued.
"If you've been away with your country it can sometimes take you two days to adjust when you get back to Manchester. Now, until February, all the players will be together and concentrating only on Manchester United. We can work on a lot of different things together and focus ourselves for the end of the season. Traditionally we tend to do well over winter, our form tends to improve. Hopefully we can do the same this year."
Manchester United travel to QPR on Sunday before facing Fulham, Wigan Athletic and Blackburn Rovers during the Christmas period.