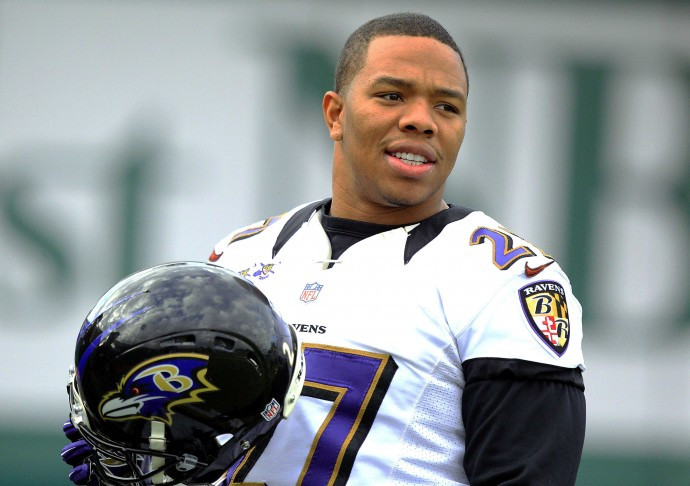 A judge is dismissing domestic violence charges against NFL player Ray Rice after he was captured on videotape punching his girlfriend, then dragging her unconscious body from an elevator at an Atlantic City casino.
Rice won the dismissal, and will have a clean record, in exchange for participation in a pre-trial intervention (PTI) program, reports ESPN.
The program required Rice to submit to anger-management counseling and check in with a probation officer for a year. It allowed him to dodge prosecution on a charge of third-degree aggravated assault. Rice also paid a $125 (£80) fine.
"I was just presented with a dismissal order from Prosecutor McClain, which means that Ray Rice has successfully completed all of his terms and conditions" of his pre-trial program, judge Michael Donio told ABC News in an email. "Therefore, based on the prosecutors recommendation, I will be signing Mr. Rice's dismissal of his case."
The former Baltimore Ravens running back, 28, was indefinitely suspended from play during the 2014 football season after surveillance videos showed him knocking out then-fiancée Janay Palmay in a casino elevator then dragging her body out the doors. The two are now married.
Activists fighting domestic violence blasted the deal.
"Given the severity of Mr. Rice's violence and the charges filed against him, it is concerning that this program was ever presented, and accepted, as an option," the National Coalition Against Domestic Violence said in a statement. "We believe completion of the PTI is hardly proof of personal change, nor was the program appropriate for his crime of domestic violence."
NFL commissioner Roger Goodell initially bounced Rice for just two games but extended the suspension following public outrage when the second video revealing the knockout punch was reported. The case triggered wide-spread criticism about the sports organization's poor response to domestic violence among players.
Rice was reinstated to the NFL after a US federal judge ruled his indefinite suspension was "arbitrary." But he hasn't yet signed with a team.