Violence erupts during Tunisia youth unemployment protests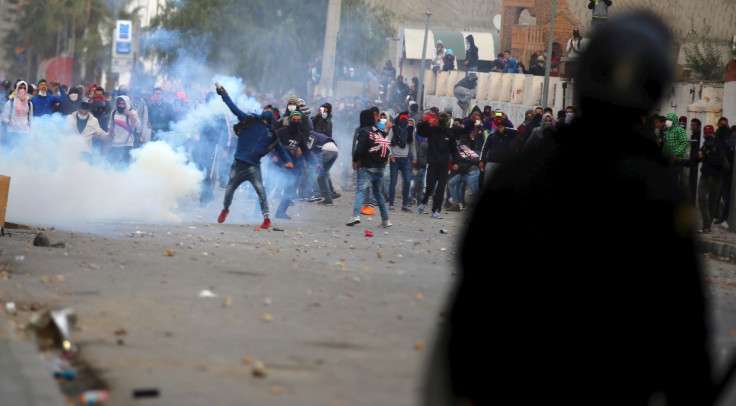 Violent protests against rising unemployment led to dozens of arrests in a number of Tunisian cities, officials said. Skirmishes broke out between police and demonstrators as hundreds breached an overnight curfew on Friday, 22 January. The violence followed a week of unrest across the country, which police said had injured 59 officers and 40 protesters.
At least 18 National Guard officers were injured on Friday, information officer Chibani Khalifa told the Mosaique FM radio station, adding that 123 people were arrested. More than 20 police vehicles were also destroyed, he said.
The curfew started following "attacks against public and private property", the interior ministry said.
The country is already under a state of emergency, declared after a suicide bomber killed 12 members of the presidential guard in the country's capital Tunis, in November.
This has not deterred demonstrators from defying the curfew and the small, violent protests over youth unemployment which began in the northern city of Kasserine, have spread to at least 15 towns and cities across Tunisia, including Tunis.
The rioting began when a young protester, Ridha Yahyoui, angry at being denied a government job, scaled a pylon in the southern town of Kasserine and was electrocuted. His father Outhman Yahyaoui told the BBC that he was proud of his son "because he died with honour, with a good reputation and he died fighting for bread".
Similarities can be drawn between these protests and the Arab Spring revolution of 2011 which was also sparked by the death of a young demonstrator. Within a month of market trader Sidi Bouzid setting himself on fire to protest about the confiscation of his wares and the harassment and humiliation that he reported was inflicted on him by a municipal official and her aides, the country's second president, Zine El Abidine Ben Ali was forced to flee to Saudi Arabia.
Tunisia's current leader Beji Caid Essebsi said he understands frustration that has led to protests over unemployment. Joblessness in the country now stands at 15%: higher than the 12% at the time of the revolution.
Among young people, however, the figure is 32% rising to 40% in rural areas, according to the International Labour Organisation.
Terrorist attacks on a beach resort in Sousse and the Bardo Museum in the country's capital Tunis have also hit the tourist industry, which employs more than 400,000 people.
"There is no dignity without work," President Essebsi said. "You can't tell someone who has nothing to eat to stay patient."
However he warned that there was a risk that the Islamic State (Isis) group in neighbouring Libya "finds that the moment is opportune to infiltrate into Tunisia".
© Copyright IBTimes 2023. All rights reserved.