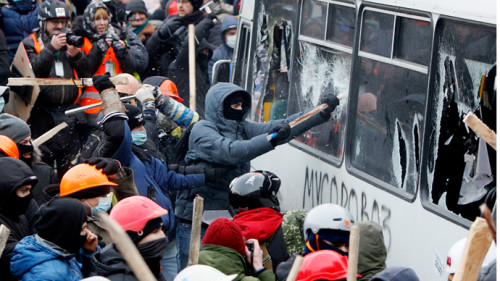 Up to 100,000 Ukrainians are filling Kiev's Independence Square following the introduction of controversial new anti-protest laws by the country's government.
Some demonstrators covered their faces in defiance of the new laws and others wore colanders to poke fun at a law banning helmets, but the mood soon turned ugly and scuffles broke out with police.
The police claim protesters attempted to storm the government quarter and they retaliated, and running battles have broken out between protesters wielding sticks and flares and riot police. There are also claims that police special forces are standing by with water cannons.
The ruling 'Party of the Regions' led by President Viktor Yanukovych introduced the draconian new laws on Thursday following a show of hands. Opposition parties claim the vote was "illegitimate" and a show of hands was only deployed when the government realised it could not otherwise win the vote.
At the same time as passing the new laws President Yanukovych also fired his chief of staff, Sergiy Lyovochkin, who had been uncomfortable at the brutality of police when they broke up another demonstration in November 2013.
The European Union and US officials have voiced concern at the extent of the new laws, which include restrictions on mobile phone and internet use, the unauthorised installation of tents, stages or amplifiers in public places and a ban on protests involving more than five vehicles in 'Automaidan' motorcades.
The ban on tents is believed to be a response to the blockades and tents in Independence Square – also known as the Euromaidan – since the protests began.
Anyone found guilty of breaking the new laws faces imprisonment and hefty fines. EU Enlargement Commissioner Stefan Fuele tweeted that he was "profoundly concerned by new legislation limiting freedoms".
In Washington, Senator John Kerry said: "We believe deeply that the people of Ukraine want to affiliate and want to be associated with Europe and they want to turn in that direction and the steps that were taken are anti-democratic. They're wrong. They are taking from the people of Ukraine their choice and their opportunity for the future."
As well as fighting what they describe as corruption and abuse of power, the protesters are demanding closer links with the European Union but the government have instead forged a closer alliance with Russia, which immediately cut the price of gas to the country by a third and bought £15bn of Ukrainian government bonds – money that Ukraine badly needs to avoid defaulting on its debts.
Watch video of the demonstrations on YouTube, below:
Follow events in Kiev live on Ustream: