More than 200 people have been arrested for crimes apparently committed during anti-government protests across Tunisia. Demonstrations broke out in the North African country on Sunday (7 January), spreading to more than 20 towns as people protest against new tax hikes and price increases.
The violent protests have left one person dead and raised fears of broader unrest in the country that was the birthplace of the Arab Spring in 2011.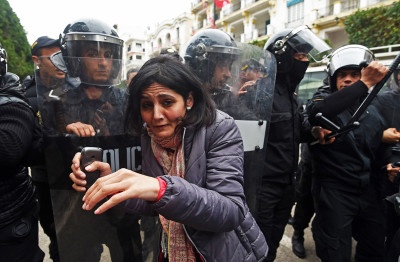 Public anger has been building since 1 January, when the government raised the prices of petrol and other items and hiked taxes on cars, phone calls, internet usage and hotel accommodation as part of economic reforms.
Authorities said the 237 people they arrested took part in looting, theft and arson. Some blocked roads and attacked police stations, municipal depots, stores and banks. "These acts were carried out at night and have nothing to do with the ongoing protests," the ministry's spokesman, Khalifa Chibani, told Tunisian news agency TAP. He said 58 members of security forces were injured but didn't say how many protesters were wounded. One protester died on Monday (8 January).
"Last night criminals looted and burned security centres, 45 police cars were torched and some government offices were attacked," Chibani said. "They blocked roads and carried out robberies in many cities ... Obviously, these are not protests, but theft and damage to public and private property."
Unknown assailants threw Molotov cocktails at a Jewish school on the southern tourist island of Djerba, home to an ancient Jewish community. The president of Djerba's Jewish community, Perez Trabelsi, told The Associated Press that the attack was perpetrated by two people on a motorbike. "The perpetrators want to sow dissension between Jewish and Muslim communities living in harmony on the island for many years," Trabelsi said.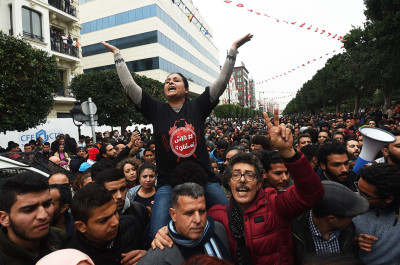 While Tunisia is widely seen as the only democratic success story among the nations where Arab Spring revolts took place in 2011, it has had nine governments since then and none of them have been able to tackle growing economic problems.