Russian President Vladimir Putin has said that Ukraine's actions near Crimea are "stupid and criminal" as the war of words between the two countries escalates. Tensions flared up in the border region between Ukraine and Russia as both countries are reportedly expanding their respective armed forces. Putin's latest remarks come shortly after the Russian intelligence agency FSB said it has foiled a Ukraine-backed "terrorist" incursion into the Crimean peninsula – a former Ukrainian territory which became part of Russia in 2014.
The FSB added it has detained several Ukrainian saboteurs as well. In response, Ukrainian President Petro Poroshenko has hit back at Russia's claims saying they are "insane and cynical".
Following up on the FSB's assessment, Putin told reporters on Wednesday (10 August) that Kiev is "playing a dangerous game" by not trying to resolve the crisis through talks. "I think it's obvious that Kiev's current authorities are not seeking for ways to solve problems through negotiations, but have turned to terrorism."
Ukraine had earlier alleged that Russia was deploying heavy weaponry, including nuclear weapons carriers, in the frontier region which could potentially stoke up a fresh conflict.
Following Putin's comments and FSB's remarks, the infuriated Ukrainian authorities have also shot back condemning the "false" accusations of Moscow. Poroshenko said Russia's allegations are a mere pretext to deploy more military forces against his country.
"Russian accusations that Ukraine has launched terror attacks in the occupied Crimea are equally cynical and insane as its claims that there are no Russian troops in eastern Ukraine. These fantasies pursue the only goal: a pretext for more military threats against Ukraine," read a statement released from the Ukrainian presidential office.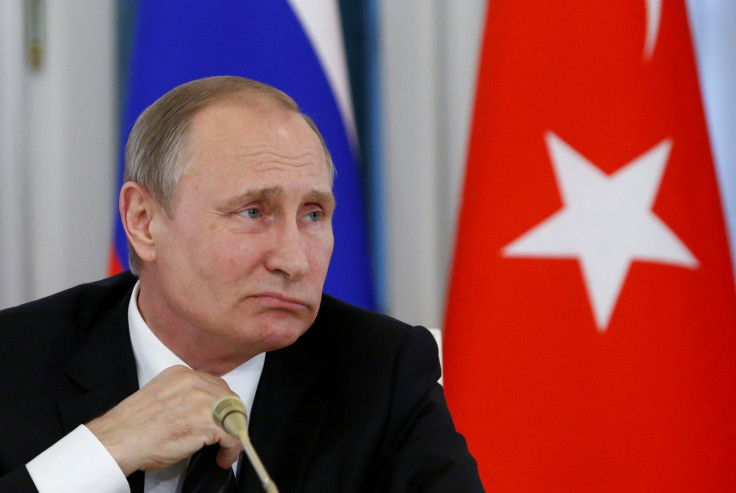 It added: "Russia provides money and arms to support terrorism in Ukraine. It became a state-led policy on the occupied areas of Crimea and eastern Ukraine that resembles the Soviet Great Terror. Russia will fail to undermine Ukraine's reputation on the international arena and press for lifting sanctions with such provocative acts." The Ukrainian foreign ministry has also released a similar statement echoing Poroshenko's stance.
In addition to that, Ukraine's envoy to the UN said Kiev is planning to appeal to the Security Council and Secretary-General Ban Ki-moon over Russia's charges. "As soon as I have such a possibility, I will speak with the Security Council chair and the secretary general to keep them informed about the situation," said Vladimir Yelchenko.