The last week has seen UK telecom companies Vodafone (UK code: VOD) and TalkTalk (UK code: TALK) both deliver company results.
While they are focused on quite different markets (Vodafone mobile phones globally; TalkTalk broadband-focused in the UK), they both offer temptingly high income streams via dividends (over 6% annually from Vodafone; 8% from TalkTalk). So, should investors get interested in these two phone companies?
All three major UK telecom companies (including BT) have seen falls in their share prices over the last year (Chart 1), in the process doing worse than the FTSE 100 index. So up to now, the market has not been too keen on these shares.
Vodafone: doing fine near-term, but where will the growth come from in the long-term?
Vodafone's results were what are classically called "a mixed bag" – some good elements, some bad.
First of all, what were the good elements?
Growth improved in Europe to 1.0% (was negative before);
Strong growth of over 7% in Africa, Middle East, Asia and Pacific;
Dividend was raised 1.9%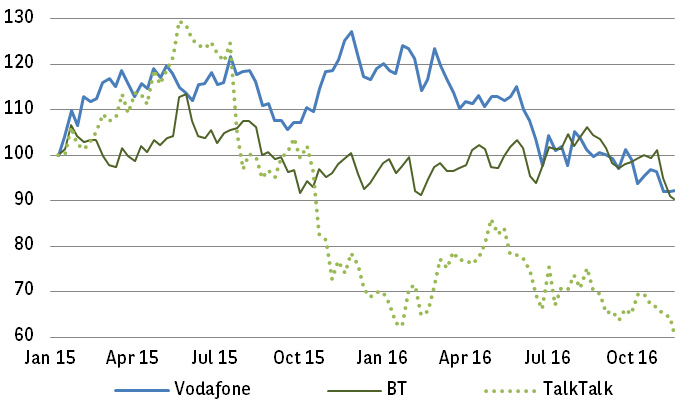 But then there were also several weak elements:
Vodafone wrote down the value of their Indian business by £5billion. This was due to bitter competition in India from new competitors, weighing heavily on Vodafone's profits there;
The UK saw weak results with a near-3% fall in domestic sales, due partly to specific billing problems Vodafone is having at the moment.
On the whole, more-or-less reassuring then despite the big hit taken in India; but the real question remains unanswered – how will Vodafone generate growth in the future?
According to average analysts' forecasts, Vodafone's sales will fall in 2017 and 2018, making it difficult for Vodafone to produce higher profits (Chart 2).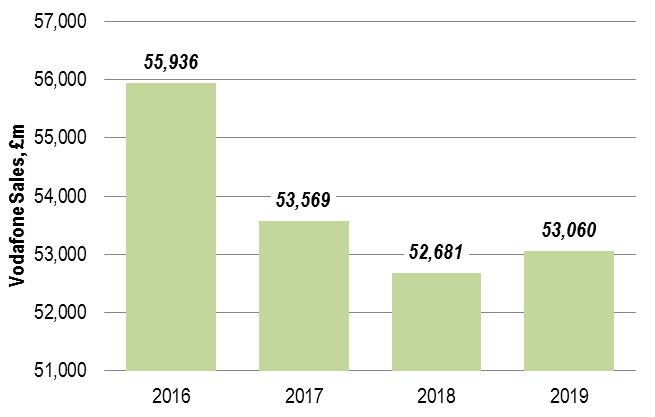 So while analysts are positive on the outlook for Vodafone shares, with an average price target nearly 30% above today's 203p level, so far the market does not seem to agree, with the share price falling since the results announcement.
TalkTalk: still struggling post its data hacking scandal
Looking at TalkTalk's results, it is more difficult to find much seasonal cheer as an investor. There was quite a stream of ongoing difficulties to report:
High-margin broadband customers continue to desert the company over the six months to end-September. Over the period, 98,000 customers left TalkTalk, while only 69,000 new customers joined, i.e. a net decline of 29,000;
Yes profits were much higher than for the same period a year earlier, but this was largely due to the company cutting its marketing spend – but without marketing spend, it is difficult to grow the customer base.
The main problem for TalkTalk remains two-fold: firstly there is an ever-rising level of competition for broadband customers in the UK from the likes of Sky, BT and now even Vodafone.
And secondly, the company's reputation remains stained by the data hacking scandal where a 17-year old teenager managed to hack into TalkTalk's computer network and access the details of 156,000 customers.
Yes the annual income from TalkTalk shares looks very tempting, delivering an 8% yield currently (Chart 3). But the question remains: with profits under pressure at TalkTalk, will the company be able to continue to pay such a generous dividend, or will they be forced to cut it at some point soon?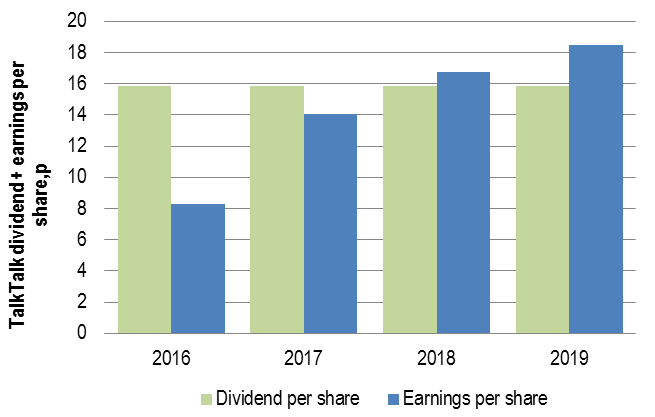 Conclusion: Deal or no deal?
On the basis of these recent results, should a private investor be tempted to buy either Vodafone or TalkTalk shares today?
On the balance of the evidence presented by the companies so far, I would suggest rather to wait. In both cases, there is the pressure of intense competition weighing on profits, and the path to future growth is very uncertain.
So the temptation of the high dividends at Vodafone and TalkTalk is perhaps still not yet enough, given that investors have plenty of choice when it comes to high dividend-yielding shares in the UK.