After the explosive finale of The Walking Dead season four, fans have been wondering whether the Terminus residents are really cannibals. Well, the latest tagline - Hunt or be Hunted - from the poster of show's upcoming season five hints that they just might be.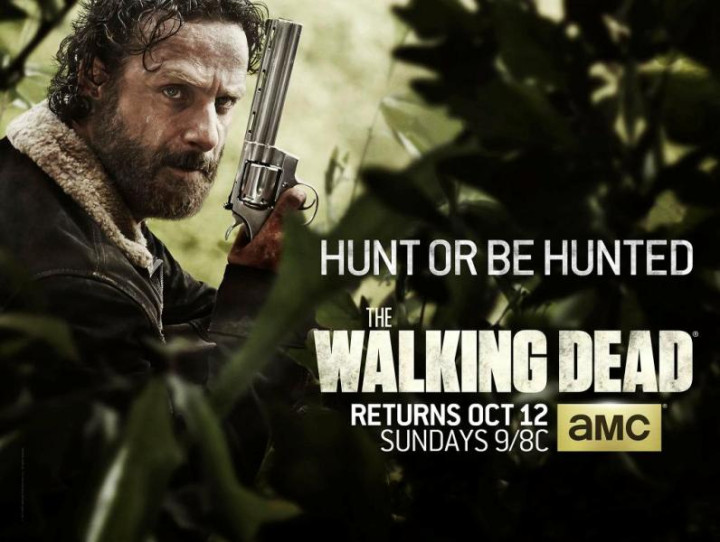 Even though no official confirmation has been made regarding the cannibal story, the producers have teased that the backstory of how the community at Terminus was created will be featured in season five, according to The Hollywood Reporter.
Executive producer Robert Kirkman recently told Entertainment Weekly that season five would be "pretty close" to the comics:
"There's a very popular, familiar story line in the comic books that happened immediately following the exodus of the prison, and it is entirely possible that we will be touching in some way on that very popular story line," said Kirkman.
Here's how the cannibal story might play out in the upcoming episodes, according to the THR report:
While there isn't a character named Gareth in the comics, there is a guy named Chris, who is the leader of the so-called group of Hunters who, hungry and out of options, turn to cannibalism in order to survive after stalking their victims — including Rick's group. Rick's and Abraham's group cross paths with the Hunters in the 63rd issue of Kirkman's comic series, when they're making their way to Washington, D.C.

Also notable: Rick mutters the line "They'll feel pretty stupid when they find out they're f---ing with the wrong people" in the following issue.
Could Gareth and Terminus really be a remixed version of the Hunters, from the comics?
The Walking Dead returns 12 October on AMC.