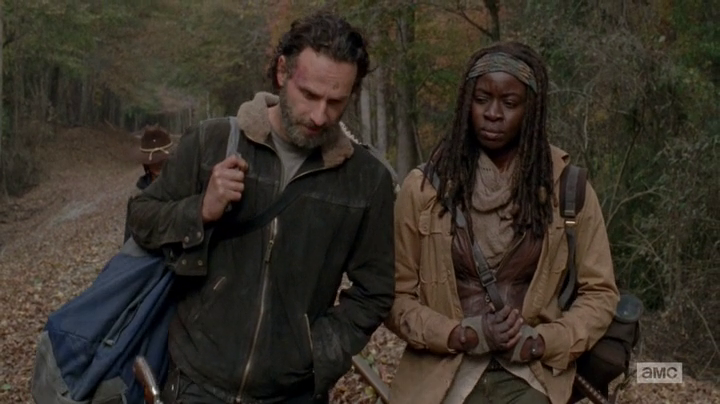 The Walking Dead Season 5 will premiere only in October, but fans can get the first look of their favourite hero Rick Grimes from the zombie horror drama.
In the teaser picture, Andrew Lincoln as Rick Grimes looks much in form with a determined expression about him. Fans can figure out that Rick is ready for another bloody battle to escape from the locked train car.
He appears to be standing near a cannibal container but it is unclear whether he has been tricked to come out of the car or if he is still figuring out an exit from the car which is most probably used by the Hunters to lock their food in (read humans).
#TheWalkingDead is returning this October, but we've got your first look at season five! http://t.co/KFx5oBxlGp pic.twitter.com/jIwZy2ipZk

— The Walking Dead AMC (@WalkingDead_AMC) May 13, 2014
The teaser picture coincides with a recent report by the Spoiling Dead Fans which said that the Terminus is abuzz with lots of screams as filming began at Atlanta.
"Chandler, Andrew, Norman, Lauren and Steven have all been seen on location so far at Terminus. Lots of screams, gunfire and some walkers. More as we get it," the Spoiling Dead Fans reported via their Facebook page.
The award winning zombie apocalypse drama from AMC aired its Season 4 finale in March where Rick, Daryl, Carl and Michonne were seen locked in a train car 'A' at the Terminus after a fierce battle with the Termites.
Though there are many theories of how Season 5 of the zombie drama will begin, none of them have been approved by the show creators, Scott Gimple and Robert Kirkman.
A very popular theory is that Season 5 will carry forward Rick and company's survival struggle as they try and defeat the cannibals at the Terminus.
There is also suspicion that Mary is actually a cannibal who duped Rick and his friend to come to the Terminus so that she could turn them into dinner for the cannibals.
The cannibal theory is the strongest of all as the same was introduced in the graphic comic series after the prison fell.
Meanwhile, show creator Robert Kirkman took some time off to tweet the latest photo from the sets and teased TWD fans saying 'Guess where I was today.'
Guess where I was today. http://t.co/2sA65Mtw1j — Robert Kirkman (@RobertKirkman) May 10, 2014
The Walking Dead Season 5 will have 16 episodes with two sub seasons of eight episodes each and has Seth Gilliam as the newest entry. Scott Gimple will return as show runner for the fifth Season.