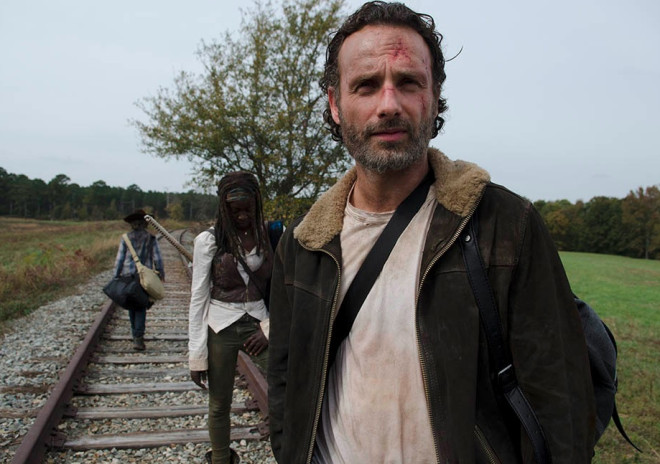 The filming of the Walking Dead Season 5 has just begun this week in Atlanta and juicy spoilers have started flowing from the sets.
It appears Mary has started cooking human meat at the Terminus as lot of screams were heard during the filming of Season 5 at the Atlanta location, Wetpaint reported via the fan club of AMC's zombie horror drama.
"Chandler, Andrew, Norman, Lauren and Steven have all been seen on location so far at Terminus. Lots of screams, gunfire and some walkers. More as we get it," the Spoiling Dead Fans revealed some inside story via their Facebook page.
The latest scoop throws some light on the Terminus not being a safe haven for humans and Carl (Chandler Riggs), Rick (Andrew Lincoln), Daryl (Norman Reedus), Maggie (Lauren Cohan) and Glenn (Steven Yeun) are all locked up there in order to become food for the cannibals, Mary probably having duped them.
Members of the fan group later added that the filming had moved inside and described the sounds as 'torture'
"Filming has moved inside. Loud screams were heard. Not shouting/arguing/pleading tones. These were described by multiple people as 'torture' or something that sounded extremely bad."
Meanwhile, show creator Scott Gimple has teased that Season 5 will be raining love for Daryl in zombie land.
"I would say that Daryl has already found familial love. If you're talking romantic love, I'm going to say, 'I think so,'" Gimple told Larry King in an interview.
Season 5 of the Walking Dead will have 16 episodes split into two sub-seasons. While the first eight episodes will be aired from October to December, the second set of eight episodes will be aired during February next year.