The countdown for The Walking Dead season 7 midseason premiere has begun and it appears Carol will abandon her hesitation to wield a weapon and kill more humans. A new poster released by AMC reveals her new look in which she appears fierce with a blood-stained knife.
The caption with the image reads – "Survivor." The theme of the second half of season 7 is "Rise Up," a new promise that Rick Grimes has made to his group after Negan's increasing violence against his group. In the last episode, Daryl Dixon reunited with Rick and Michonne and together they sought help from the Kingdom and the Hilltop.
In episode 8, Richard went to meet Carol to seek her support in their battle against Negans and his army of the Saviors. But to his disappointment, she denied her involvement in any kind of future bloodshed.
However, the recent image teaser from the Walking Dead Instagram page does hint at her active participation in Rick's fight for survival. In an interview with Entertainment Weekly, Danai Gurira (Michonne) has teased that the second half of the sevenths season will reunite Rick's team for a fantastic journey.
"It's really, really riveting, and it goes through various rich chapters of being responsive to a very daunting force, that new force that is a part of our new normal. It's the idea of how they start choosing to respond to this threat that makes for some really fantastic drama. So I think there's just a really riveting second half to the season in terms of we're rising up, but what does that look like? And how the heck are we going to do that? It's great to be a team again, but we're dealing with the biggest threat we've ever dealt with, and so our tactics have to be different," she told the website.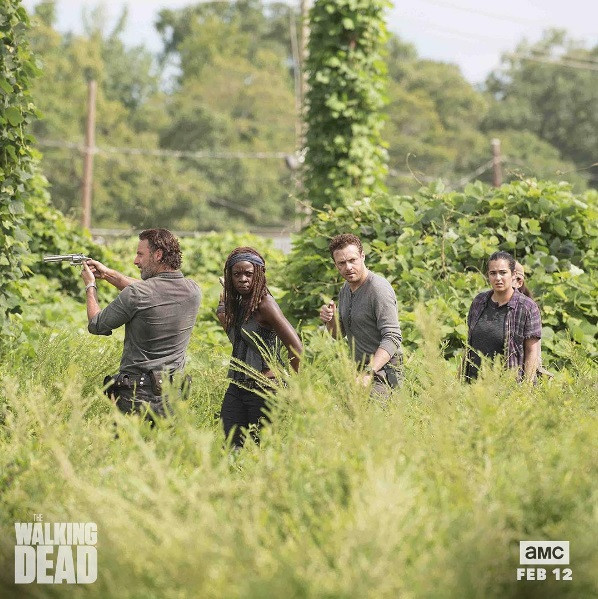 From the beginning of season 7, Michonne expressed her anger against the Saviours but Rick never supported her. It seems she will get the much needed support from her group to fight back the enemies. "Really, all that she does now is about who she loves and it's about this community. So, even that rage and that desire to get back at Negan was all rooted in the love for these people, and the horrific losses that they just experienced, and how it's just not in her nature to just take that and say, "Okay, I'll now submit to you because you've got us really good," Gurira added.