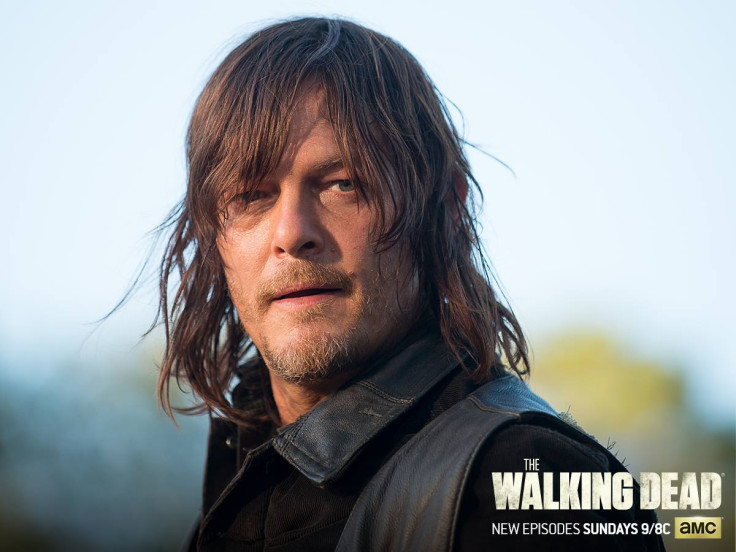 Fans will soon discover Negan's victim/victims from The Walking Dead season 7 premiere episode but before the day arrives, Norman Reedus has a word of caution for them. The actor, who plays Daryl Dixon in the AMC zombie thriller, has predicted that the episode will be very "heavy" for viewers emotionally.
The 47-year-old actor appeared on The Tonight Show With Jimmy Fallon and revealed few details about the hugely anticipated season premiere. "I imagine a lot of people will be kicking their television sets," Reedus told the show host (via Hollywood Life) and added that the death scene was not easy to the eyes. "It's heavy, it's really really heavy."
Season 6 finale left fans in dark about the victim whose head was smashed by Negan as the scene was filmed from the character's point of view. Though the scene drew massive outrage for keeping fans in dark in the season finale, producers, and show creators have assured an equally compelling season 7 premiere that will explain why viewers were left in dark.
Last week AMC released a 3-minute long sneak peek where Rick Grimes appeared shattered after witnessing the death of a person close to his heart. Nothing was revealed about the victim, but a messy pile of blood, bone and flesh definitely narrated the harrowing scene that is set to bring a major plot twist in the post-apocalyptic show.
Soon after the video release, fans are speculating that Glenn and his pregnant girlfriend Maggie will fall victim to the notorious Savior leader's baseball bat, Lucille.
Jeffrey Dean Morgan, who plays Negan, sparked a stir when he hinted that his character might kill multiple people in the infamous death scene. "Negan's not just going to kill one person in [the premiere]... He's not afraid of bashing in skulls," he told Den of Geek. But later the actor clarified and claimed that he was misquoted.
Here is what he has to say to debunk the multiple death theory: "That's not what I said. I did an interview with this guy and I was talking about Negan's arc and what he does in the course of being Negan on The Walking Dead. Instead of talking about the one person Negan kills – because Negan kills a lot more than one person on the lineup. And somehow he pieced that all together in such a way that it turned into the article that he wrote. It was to get people fired up. Negan does kill a lot of people in the next couple of years. Before we even meet him he's killed a lot of people. Negan's been around for a long time."
The Walking Dead season 7 will premiere on AMC on 23 October in the US.