AMC has released a sneak peek of the premiere episode of The Walking Dead season 7, which reveals a chilling encounter between Rick Grimes (Andrew Lincoln) and Negan (Jeffrey Dean Morgan). The conversation between the two leaders in the aftermath of the major death in the season 6 finale reveals only a bit of a bigger twist that will change the entire course of the zombie horror thriller series.
The three minute 23 second clip offers major hints of Negan's victim or at least narrows down the list of the probable victims with one name echoing in the minds of fans. However, before discussing who the victim could possibly be, here is a brief analysis of the exchange of words between Rick and the Savior leader.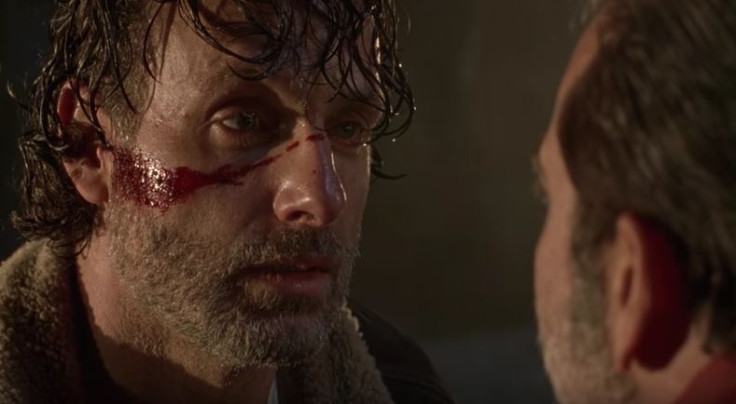 "I'm gonna kill you," a shattered Rick warns Negan subtly. "Not today, not tomorrow... but I'm gonna kill you," he reiterates. Morgan's character appeared least bothered about the warning and went on to lecture Rick about the importance of having a right-hand man in the post apocalyptic society. He then drags the Alexandria Safe Zone leader towards his van.
Negan's victim revealed?
As no one knows what will happen inside the RV until the show premiers, but during an intense moment, fans can notice two major clues in the death scene. First of all, blood splashes on the right side of Rick's face and secondly, the gory sight of blood and flesh on which Negan dragged his victim to the van is also on Rick's right side.
In the scene in the season 6 finale, Maggie, Abraham, Michonne, Daryl, Rosita and Glenn were on the right side of Rick, which led many fans to speculate that the victim could be Abraham – one of the closest people to Rick. As the bloody mess lay last in the row, some fans were of the view that it could be Glenn, who has previously evaded death a number of times.
According to Lauren Cohan (Maggie), the death is "unexpected, destabilizing and jarring in a bigger way than we ever had".
Greg Nicotero, the director of the premiere episode said during the New York Comic Con 2016, "There's some unbelievable moments and unbelievable performances that come out of the fog and the haze and the post traumatic stress of the actual moment that I think really set the stage for the entire season."